The film premiered on the opening night of Iris 2021 and was screened at Aberystwyth Arts Centre in February 2022 as part of Iris on the Move. We're delighted now to be able to share 'The Gurgle of Water' with a wider audience on the IrisPrize YouTube channel.
What was the inspiration behind 'The Gurgle of Water' and how did you get from that to the final script?
The inspiration originally spanned from the intrigue as to period drama, and the David and Bobby were just personalities both of us had come up with! We wanted to show that the LGBTQ+ community has been around for more than the present day, and pay tribute to the generation that experienced homophobia and transphobia from the '80s. After discussions with my mam, we then found inspiration when her friends had experienced the same thing, and it really made us think about how these events happened on a frequent, making us empathise further and bring real love and dedication to these characters to make the audience feel the pain the characters went through. This was really emulated into the final script, where we wanted it to show real events, and be fully empathetic towards those that unfortunately went through this.
How did Covid affect the filming?
Covid-19 certainly didn't help the process! When the schools closed, me and Lauren had to resort to calling online to collaborate and write, a majority of the meetings were conducted on Teams, as well as the auditions and prep for filming. As we approached the week before filming in September 2020, we were told we had to postpone due to another lockdown and Covid-19 infection rates getting too high. Then, we were to wait until July 2021 when we then were able to pick back up where we left off! Then taking in the necessary precautions, we were able to film in August 2021!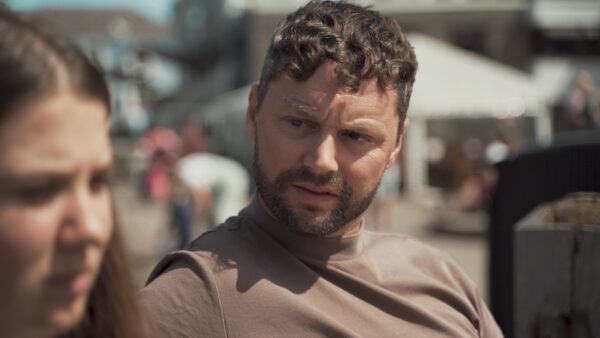 How did you find the cast and crew for the film?
As an avid actress in the local community, being involved in Aberystwyth Youth Theatre/Arts Centre I met a variety of different actors and made an amazing group of friends along the way. I wanted to provide the opportunity to a range of ages of actors in the community. Gwenllian Davies expressed interest from the beginning of the project alongside Katia, and they supported the project from the get-go. I was very appreciative of their support, and through a round of auditions, we were able to cast a majority of members from my Youth Theatre, and from the local community. Some crew was provided from Iris, as well as some other members, being known friends in the community, like Chris Evans who is a good friend of mine, and a very talented SFX makeup artist. We received a lot of support from local companies and friends as well as Iris, who we were incredibly grateful for.
What was the experience of filming in the middle of Aberaeron like?
Aberaeron in itself is where I went to secondary school and spent the majority of my teenage life. It being such a beautiful place, we wanted to pay tribute to the natural beauty and brightness Aberaeron gave us. Members of the public were very excited to see a film crew in Aberaeron, being friendly and chatty with us and intrigued as to what was going on, and we were able to capture some beautiful shots of the town, it provided a perfect setting for our story.
How did it feel to see your film on the big screen on the opening night of Iris 2021?
It was honestly one of the most surreal experiences I have ever experienced. Seeing the film come together fully and being able to watch our work come to life felt as though I was in a dream. I was so grateful to enjoy the festival with my family, friends, and partner. The event itself was so incredible and so enjoyable, and even though I won't be a submission this year, I will definitely try and come to the event in October.
Has this experience made you want to make more films?
Most definitely! I've been writing scripts for years, but now that I've gotten the experience of the film with Iris, I intend on developing more film and theatre scripts. I enjoy writing too much to ever stop, and having this experience and meeting a community of people from a different part of Wales, particularly from my home area, I would love to continue meeting amazing new people. I am already developing my own screenplay for a new film, so perhaps you'll see that in the future!
What advice would you give to someone at school with an idea for a short film?
Don't ever think your ideas aren't good enough! As a young writer, actress, and director, I can safely say that you're never too young or too old to develop your ideas, as ultimately, theatre and film, music and radio, cannot be done without stories. Reach out, chat to people, make friends in the industry, people are incredibly lovely, and if you don't know who to ask to review your script, just ask your family, friends, or teachers, I'm sure they're happy to help. My Media teacher Mrs. Colleen Rafferty was incredibly supportive of our script, as well as my family. So always, always believe in yourself!
---
Niamh Buckland
is an aspiring actor, director, and writer from the rural town of New Quay in Ceredigion. She co-wrote and directed 'The Gurgle of Water', her first short film (of which her dog 'Finlay Gwynfryn Buckland' featured). She's continuing to write and take part in projects, and if you ever want to find her; Niamh is often found in a Cafe Nero drinking a chai and procrastinating.