In the very first of our Pride Month Spotlights, we chat to passionate filmmaker and diversity advocate, Berwyn Rowlands who, from humble Welsh beginnings, has created the biggest LGBT+ film festival prize around the globe. We learn more about his background as a Welsh-speaking, gay man who was glaringly underrepresented on the screen, and how this has influenced his own work in amplifying LGBT+ voices. 
Fed: Can you tell us more about how the Iris Prize came to be?
Berwyn: 
As a gay man, I was tired and disappointed at the stories I was seeing about myself on the screen. They were well-meaning filmmakers putting these stories out but the reality was that there was a lack of funding and a lack of experience so an awful lot of the concepts were substandard. Although, as a gay man, I felt unbelievably grateful to exist in these films, they had bad sound, bad lighting and more often than not, scripts that hadn't been finished. These were all barriers to actually enjoying the films. 
I, and another number of organisations, agreed that we needed to add to the quality of the work that was available. We wanted to focus on excellence and storytelling - so that's what we did. At the same time, we weren't quite sure what we should do. We didn't want to create just another film festival in what was already a crowded marketplace so the solution was simple - let's focus on a prize as part of a film festival to make sure we were contributing something useful and meaningful. 
Today, the Iris Prize continues to be the world's largest LGBT+ short film prize at £30,000. We were investing in new production and that was the thing that made us very, very different. The whole project exceeded all of our expectations. 
Fed: How have your own life experiences influenced and inspired what you do?
Berwyn: 
I'm 54 so when I was growing up as a Welsh-speaking child and teenager, I was - to all intents and purposes - invisible if you had to rely on what was on TV or in the cinema. I remember when Channel4 in Wales (S4C) was featured in 1982 and from almost nothing at all, there was suddenly a dedicated Welsh language channel. That was so liberating. You could turn the TV on and there you were - your culture, your life and all of its glorious complexities. I think that probably influenced me quite a lot. As a generation, it gave us a huge sense of optimism about the future. 
Discovering my sexuality and discovering I was gay was another layer of complexity to add to the equation. I definitely didn't find anything in film or television that depicted what I thought I was. I couldn't always relate to what I saw and there wasn't much LGBT+ representation at the time. So, I think those are the key things that have influenced me. 
Fed: Why do you think initiatives just like yours are so important for the LGBTQ+ community and its allies?
Berwyn: 
Iris is a film festival first and we've chosen LGBT+ as the area we want to focus on. Iris isn't about finger-wagging or campaigning overtly. It's about sharing stories via the film festival. I know that sounds like I'm splitting hairs and I'm certainly not saying campaigning isn't important because it is, but we focus exclusively on sharing stories. By doing that, we reach a lot of people and we're able to bring people around to hopefully understanding more about diversity. 
One of the areas I was keen to address right at the beginning was to make sure that when we were sharing our stories, we were sharing them with new audiences. Preaching to the converted is okay but you're not going to get very far. We wanted to make sure that people who didn't identify as LGBT+ would be turning up to Iris - 30% of our audience identifies as straight. That, to me, is extremely important. 
Fed: What do you believe needs to happen next for LGBTQ+ voices to be heard even louder and clearer?
Berwyn: 
This is the most difficult question to answer instinctually because there are many, many answers to it. I think at the moment, we need to be very clear about what we are campaigning for. We need to consider carefully how much time and effort we've got because there are so many things that need to change - domestically, here in the UK, but also much wider. There are about 70 countries on this planet where demonstrating your love for a same sex person is seen as a crime and punishable by death. I think that there's a lot of work to be done. We need to be very strategic and we need to 
consider 
both domestic and international priorities. 
Fed: What does Iris have in the pipeline for the rest of 2021?
Berwyn: 
It'll be available in the UK online this year and all being well, there will be an in-person event in Cardiff from the 5th-10th of October. It will be really interesting bringing Iris back into an arena where we actually have an audience. The festival gets around 11,000 attendees each year but by taking Iris online last year, we hit 84,000. So Iris online, moving forward, won't be a plan B. Fingers crossed we'll be doing more of both in-person and online.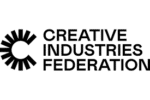 Learn more about
Creative Industries Federation
and become a member today by following the LINK!