There are picture descriptions for the visually impaired at the end of this post.
I had only been working with Iris Prize for a week when I was asked to write a blog post about the inaugural Student Showcase. Determined to be the best, most productive, and likeable intern of all time, I settled down at my desk to watch the films and reactivate my uni-drained creative juices. 
I'll preface this with a PSA – I did not study film, meaning that until this moment I had a very specific image of student films in my mind. So, as I sat there with my cup of tea and pen and paper ready, I prepared myself for a trip down nostalgia lane to my high school Spanish class, to shaky, ill-composed moments shot on a trendy-looking but absolutely rubbish Nikon point and shoot with choppy audio and questionable acting, all in a poor attempt to demonstrate how to order a burrito at the local Mexican dive restaurant. My preconceptions of student films were mediocre at best – sorry to any of my fellow high school Spanish classmates who might be reading this.
Fast forward to just 16 minutes later and I'm trying to hold back tears as I watch the story of Lois and Elaine in Beached Whale unfold before my eyes, just one of nine student short films from six film schools across the UK that will be shown in competition at this year's Iris Prize Festival. This collection of films demonstrates the spectacular future of LGBT+ film by poignantly exploring the diversity of our experiences across time and genre. My first taste of this year's Student Showcase brought with it a complete upheaval of my previous inclinations about
student
 films, as well as the cinematic actualisation of my dream of growing old and hopelessly in love with a quirky woman – the picturesque beach up North is an added bonus. 
Now, let's take a closer look at this year's Student Showcase:
Beached Whale – Northern Film School
Becky Farrall's Beached Whale follows the journey of
newly-widowed
Elaine and her best friend Lois as they travel from South Wales to the Yorkshire coast to spread Elaine's husband's ashes. This film is sure to tug at the heartstrings, so make sure you've got a tissue pack at the ready!
Missed Conceptions – Bournemouth Film School at Arts University Bournemouth 
Ruby Parker-Harbord's Missed Conceptions is an emotional glimpse into the lives of a lesbian couple in 90s London as they explore their options for having a baby together. Based on a true story, Helen and Ruth's journey to parenthood highlights important issues that are rarely told, sure to strike a chord with anyone who has tried to have a baby in unconventional ways. 
Odd Girls – Bournemouth Film School at Arts University Bournemouth 
Ellie Jo Hilton's Odd Girls focuses on the solidarity amongst the LGBT+ community by drawing attention to the lesbian women who cared for gay men at the height of the AIDS crisis. This heart-wrenching and thought-provoking film is a firm reminder of our strength together. 
Andros – Edinburgh Napier University 
Doris Tääker's Andros is a suspenseful exploration of gender and sexuality in a remote matriarchal community. A coming-of-age story of a young androgynous girl, this film takes queer dystopia to a new level, and left me nervously clenching my jaw all throughout – a perfect one for thriller-enthusiasts!
Tomorrow Island – Edinburgh Napier University
Gwenn Joyaux's Tomorrow Island takes us back to the Cold War, telling the story of a Soviet telegraphist's determination to save her American lover when a border closure is enforced. Raw, emotional, and chilling, this was another one that had me reaching for tissues at the end.
Isha – London Film School 
Christopher Manning's Isha offers a look into a man's navigation of a behind the doors romance, kept secret from his religious and worrying mother and providing turbulence to his relationship with his estranged and misbehaving brother. This film is a moving take on modern LGBT+ life, poignantly exploring the intersections and effects of love, family, and identity.
Lisboa-Santarém – London Film School 
Frederico Nobre de Carvalho's Lisboa-Santarém gives us a heartfelt yearning for things that could have been, when two men from completely different lives intersect on a hitchhike to Santarém, Portugal. A fresh take on the classic road trip trope, this film reminds us of the connections we can make with each other around even the smallest of things, and left me aching for more of Tiago, João, and their beautiful chemistry
.
Chaos Toad – Met Film School 
Carlos Lopes' Chaos Toad brings light to an otherwise solemn situation, as a man and his ill mother find solace in a fabulous, imaginary drag queen straight from the 80s. Arabella's mission to get taupe-wearing Andy back in the dating game is an absolute delight, and reminds me that I need to get a flamingo-printed shirt of my own!
Keith Barry John – University of South Wales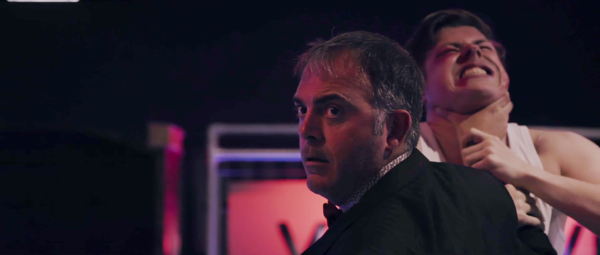 Angus Martin, Yat Fung Leung, and Jessica Hayes' Keith Barry John is a hilarious and self-realised insight into the life of a plumber turned vampire hunter. In this hilarious (and bloody) horror-comedy, Edgar Wright-esque stylings meet the sites of Cardiff and camp vampires – what's not to love?!
Onwards and upwards
With 
all
 these films comes a whirlwind of emotions, sure to strike a chord with all who watch. And with such a variety of themes and stories, they reiterate what Iris is about, of the many beautiful 
ways
 LGBT+ life can be represented by film. It's time to look elsewhere for superficial attempts at Spanish dialogue, because these stories raise the bar for student film, and we look forward to seeing what these filmmakers have to offer in the future.
Born in Florida and raised in Oregon, Gabriella Fisher is a recent graduate of Cardiff University.
@GabriellaEliseF
Student Showcase | USW Atrium Theatre | Fri 11 Oct 11am
Buy tickets for Student Showcase
/
Buy festival passes
Picture Descriptions
A still from the film Lisboa-Santarém, showing Filipe Matos as Tiago and Gonçalo Norton as João. They are sitting in a dimly lit car, looking into each other's eyes.
Another still from Lisboa-Santarém. Tiago is sitting alone on the side of a country road, dressed in loose, casual clothes and worn trainers.  Beside him is a sunhat and rucksack. He holds up a piece of cardboard and lazily raises his hand out in a 'thumbs up' manner as a lone car approaches in the distance.
A still from the film Beached Whale, showing Jill Greenacre as Elaine and Jennifer Granville as Lois. The two women face away from the camera, staring out at an open sea. They are dressed in coats and scarves.
A still from the film Missed Connections, showing Emily Tucker as Helen and Rachel Waring as Ruth. They are shown sitting on a bed in a bright orange room, wearing 90s style fashion. Ruth smiles and looks at Helen as Helen embraces Ruth from behind with her eyes closed.
A still from the film Odd Girls, showing Sarah J Lewis as Debbie. Debbie is pictured standing in a corridor, looking into a dark flat. She is dressed in dungarees and a puffer jacket.
A still from the film Andros, showing Sebastian Rennie as Adamina and Tiana Milne Wilson as Rhona. They stand in a dark field surrounded by leaves. Rhona looks down sadly as Adamina embraces her from behind.
A still from the film Tomorrow Island, showing Mira Gaydarova as Ila and Daryna Butryk as Sveta. They stand facing together before a seemingly endless sea of ice and snow. Ila's eyes are closed, her forehead touching Sveta's as she clutches a bloody knife in her hand.
A still from the film Isha, showing Dario Coates as Sean and Horia Savescu as Rhami. They are both naked in a dimly lit room, lying together on the bed with a duvet just barely covering them. Sean lays on his back, one arm casually up and behind his head. Rhami faces away from the camera, looking into Sean's eyes.
A still from the film Lisboa-Santarém, showing Filipe Matos as Tiago and Gonçalo Norton as João. They are both sitting in a clean car with a black interior. Tiago is wearing a loose shirt and shell necklace, and is unshaven. João is wearing a white polo shirt with yellow, orange, and blue stripes. He smiles and has his hand on the steering wheel.
A still from the film Chaos Toad, showing James Gillan as Arabella and Tomm Coles as Andy. They are in a clean, white kitchen. Arabella is in 80s style drag, wearing a bright pink dress with fringe, dark eye and lip makeup, a bubblegum pink wig, and blue fringe earrings. She blows a kiss towards Andy, who stands in front of her with his arms crossed, staring evenly ahead. Andy is neat and clean-shaven, but wears a turquoise button-down shirt with pink flamingos printed all over it.
A still from the film Keith Barry John, showing Kris Francies as Ben and Ashley Evans as Keith. They stand in a dark room, with Ben looking alarmingly to his left. He is wearing a suit with a printed shirt and bow-tie. His right hand holds Keith in a choke-hold. Keith wears a white vest top, and is bruised and bloody. He grits his teeth and grabs at Ben's arm, trying to get away.