So that was Iris 2021, and what a festival it was! For only the second time in the last 15 years a single film,
Baba,
won both the international prize and the award for Best British, proving a popular winner with festivalgoers in Cardiff and online. Now that the juries have made their decisions and the awards have been handed out I can throw professional objectivity to the wind and recommend some of my favourite shorts and features from this year's festival, all of which are available online in the UK until the end of October. If you find yourself craving some Iris after October 31st, you'll be pleased to know that the Best British shorts will be available on All4 from November 2021 to October 2022, and two of this year's feature films, 
Swan Song 
and 
Rebel Dykes
, will be getting UK cinema releases in the coming months.
BABA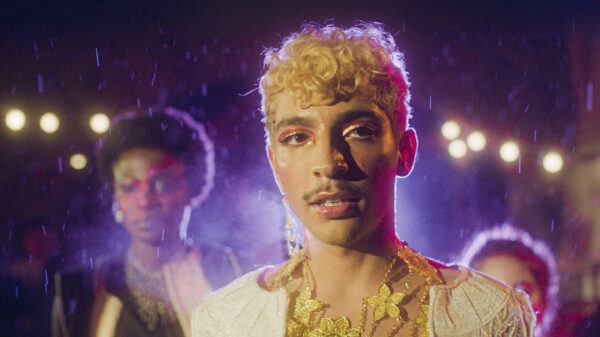 This may be an unsurprising choice, but for those of us who saw
Baba
before the festival began, this was always one to look out for. It's a gripping emotional rollercoaster of a film, featuring a spellbinding performance from actor, writer and co-director Adam Ali as Britannia, a young man torn between his native Libya and dreams of an out and proud life in the UK.
AND JUST TWO MORE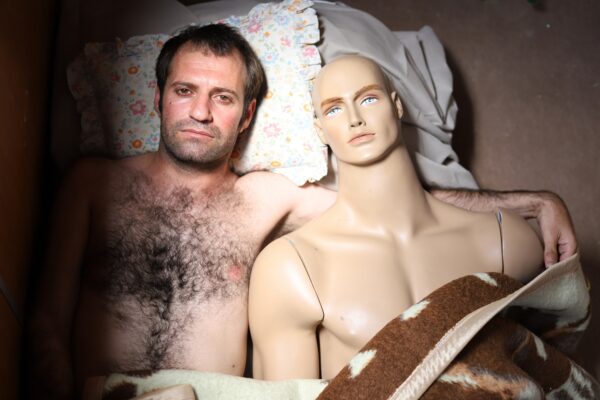 I first saw this during Stage 1 of the preselection viewings, and though it was clearly a great film I was a little surprised to learn its country of origin. "A film from
Iran
?" I thought. "At 
Iris?
" And here it is, the charming, tender tale of one man and his handsome shopfront mannequin. It's understandable that filmmakers in some parts of the world have to be extra careful and extra clever when it comes to stories of love, but
And Just Two More 
might be one of the most subtly romantic films you'll see this year.
VLINDERS (BUTTERFLIES)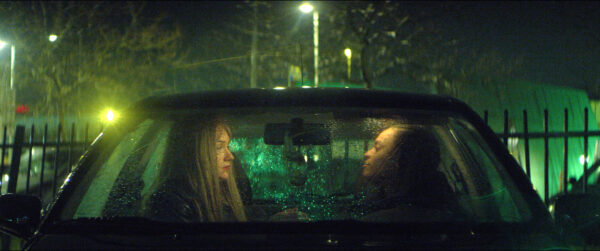 It's tempting, when recommending films for others, to go for the upbeat, feel-good and life-affirming, but that would do a disservice to both the audience and some of the powerful, hard hitting films we've seen in 2021.
Vlinders
is just one of those films, and it's an often difficult watch, delving into a nighttime world of sex work and drugs, as dealer Dewy and prostitute Rika form an unlikely partnership, one that may be doomed to end in tragedy. It's a troubling but unforgettable film featuring stunning performances from Ziarah Janssen as Dewy and writer-director Liza Koifman as Rika.
DE LA TERREUR, MES SOEURS! (TERROR, MY SISTERS!)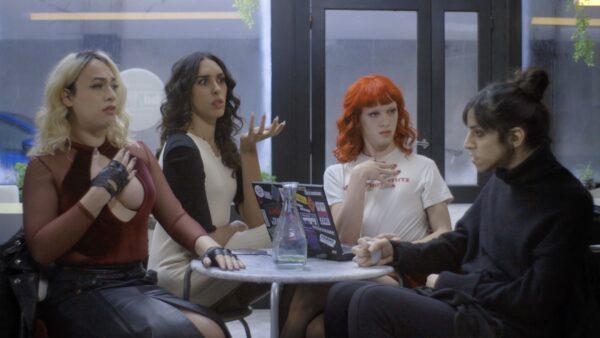 I've been watching films at Iris for 15 years, but I can say with absolute certainty that we have never seen a film quite like this. Set in a late night café it takes us into the increasingly outrageous fantasies of a group of friends as they imagine what they would do to avenge themselves against the transphobes. It's visually astounding, breathtakingly funny, and I'm pretty sure I heard the occasional "Whoop!" from our audience in Cardiff.
BEFORE THE ERUPTION (ANTES DE LA ERUPCION)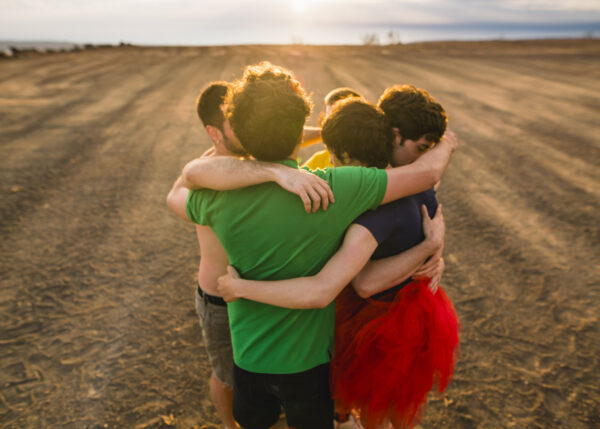 Before the Eruption
has a simple enough story; a group of young friends head for the beach, crossing the volcanic landscapes of their native Lanzarote. Among them is Em – formerly Emilio – a trans girl in the early stages of transition. What I liked most about this film is that it's about tolerance and friendship without ever feeling didactic or schmaltzy. The images are dreamlike, nostalgic, and the voiceover lyrical, as the narrator compares his friend's self-discovery with the creative force of a volcano.
A BIG LIFE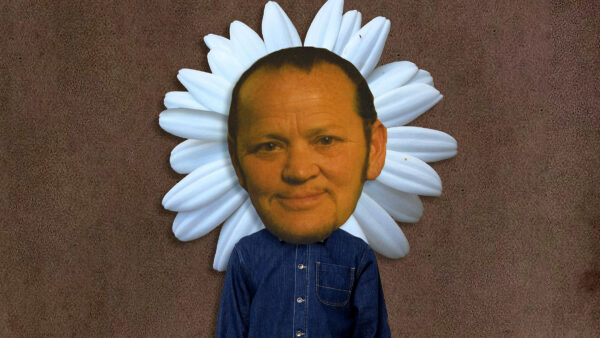 We were spoiled for choice with great documentaries this year, so much so that we were able to create an entire programme of them. It was difficult to pick a favourite from these, but for sheer verve and charm I'd choose
A Big Life,
which tells the incredible story of Bobbie Nugent, a one-time child actress turned strongwoman, and later one of Australia's transgender pioneers. It's a fascinating, essential slice of LGBTQ history in a programme that explores the past and present of Queer lives around the world.
LESBIAN

This was the second film shortlisted for both the International and Best British prizes, and deservedly so. It's a short short film, just 5mins long, but packs so much punch. In intimate close-ups the poet Lisa Luxx delivers a captivating call to arms, rescuing the word "Lesbian" from decades of innuendo, bigotry and negative connotations. Director Rosemary Baker accompanies this with striking visuals, a series of women half-camouflaged (with brilliant makeup) against domestic backgrounds. We see all kinds of stories at Iris, but for me a film like this – bold, brave and innovative – is often where the festival is at its most exciting.
DRAGGED UP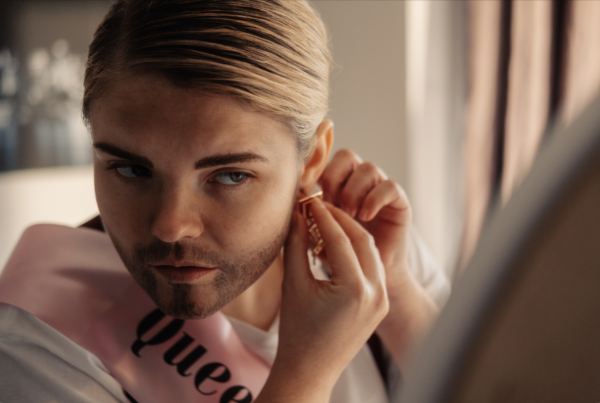 I could easily have recommended every film in the programme
Smile,
but if I have to choose just one it's this. I loved its send-up of regional beauty pageants, and the friendship between Sarah and her new next door neighbour, Scout; not to mention the wonderful scene in which Sarah, in costume, mimes along to Freddie Mercury singing
I Want to Break Free,
a young woman dragged up as a man in drag!
Watch Dragged Up in Smile
FIREBIRD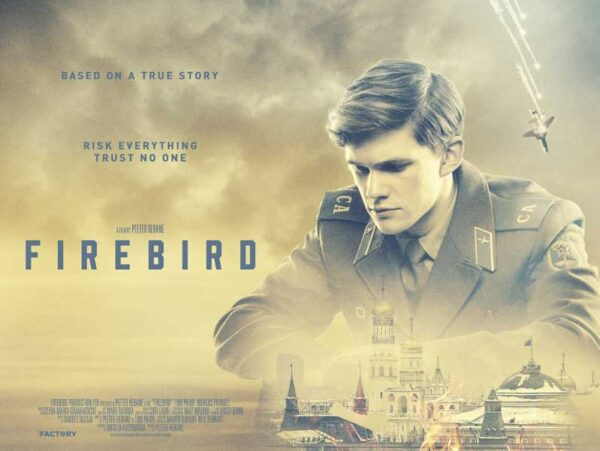 Firebird
arrived with some fanfare, having wowed an online audience at BFI Flare earlier in the year. Based on Russian actor Sergey Fetisov's memoir,
The Story of Roman,
it's the remarkable true story of an affair between two men in the Soviet armed forces at the height of the Cold War. The attention to period detail and evocation of the pre-Glasnost Soviet world are mightily impressive, and that authenticity extends to the soundtrack, composer Krzysztof A. Janczak's score complementing excerpts from Igor Stravinsky's ballet of the same name. As Sergey, Roman and Luisa, Tom Prior, Oleg Zagorodnii and Diana Pozharskaya make a believable and complex love triangle; the chemistry between them is tangible, making the film's denouement all the more devastating.
SAINT-NARCISSE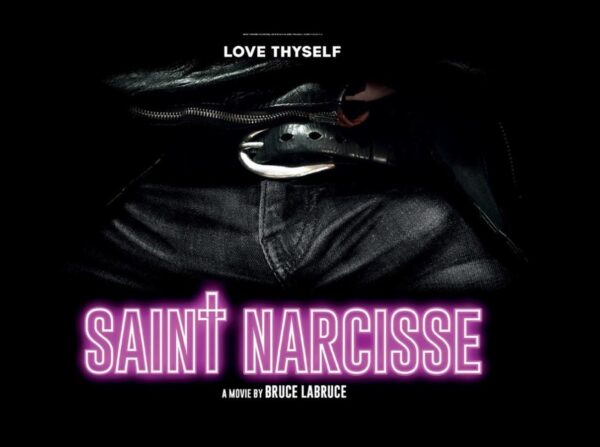 It's reassuring to know that almost 30 years after his feature debut
No Skin off My Ass
director Bruce LaBruce still has the power to shock and provoke, and in ever new and surprising ways. In
Saint Narcisse
he detonates the nuclear family, savages organised religion and – though the film is set in a fabulously kitsch 1972 – explores the inherent narcissism of the "selfie". It's the story of Dominic and Daniel (Félix-Antoine Duval), identical twin brothers separated at birth. Throw in their estranged lesbian mum, a homoerotic monastery run by a depraved, St Sebastian-obsessed monk, and an abundance of nudity, and you have what may be LaBruce's most stylish and sophisticated offering to date.