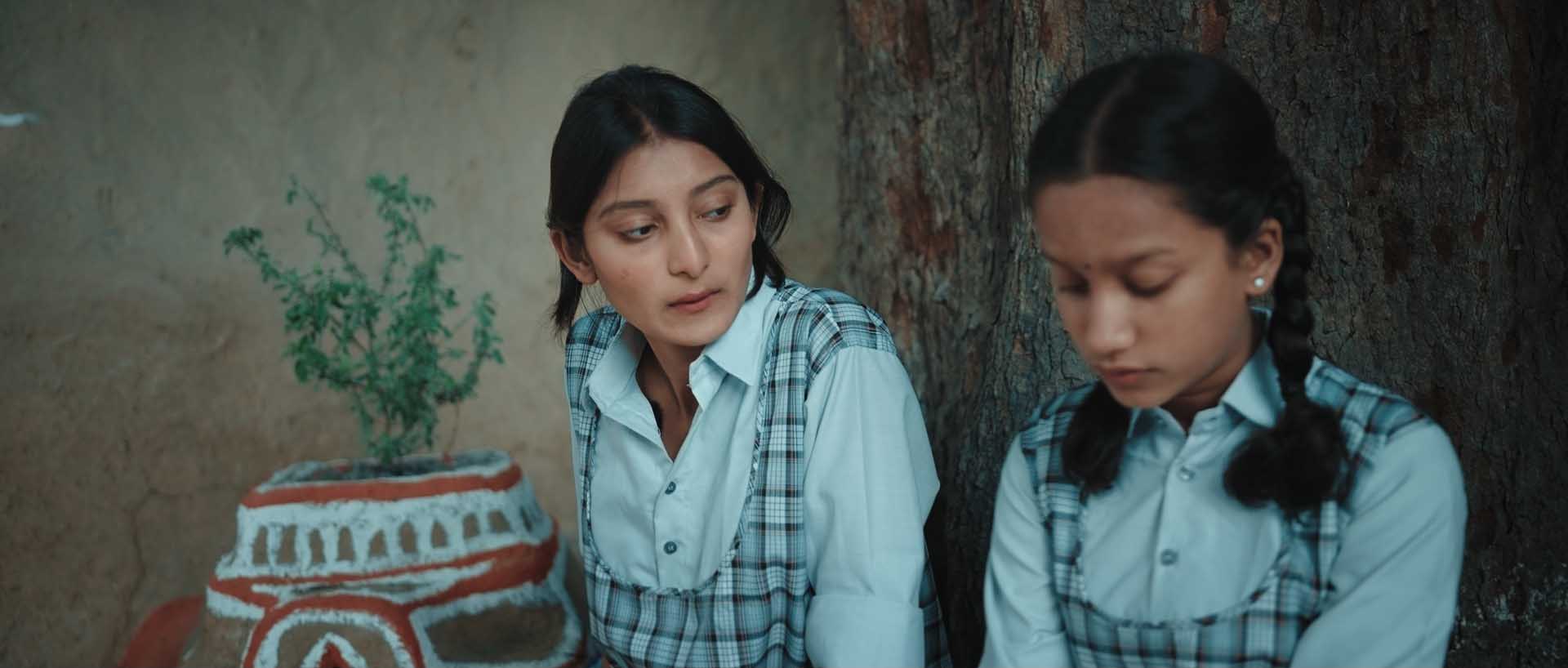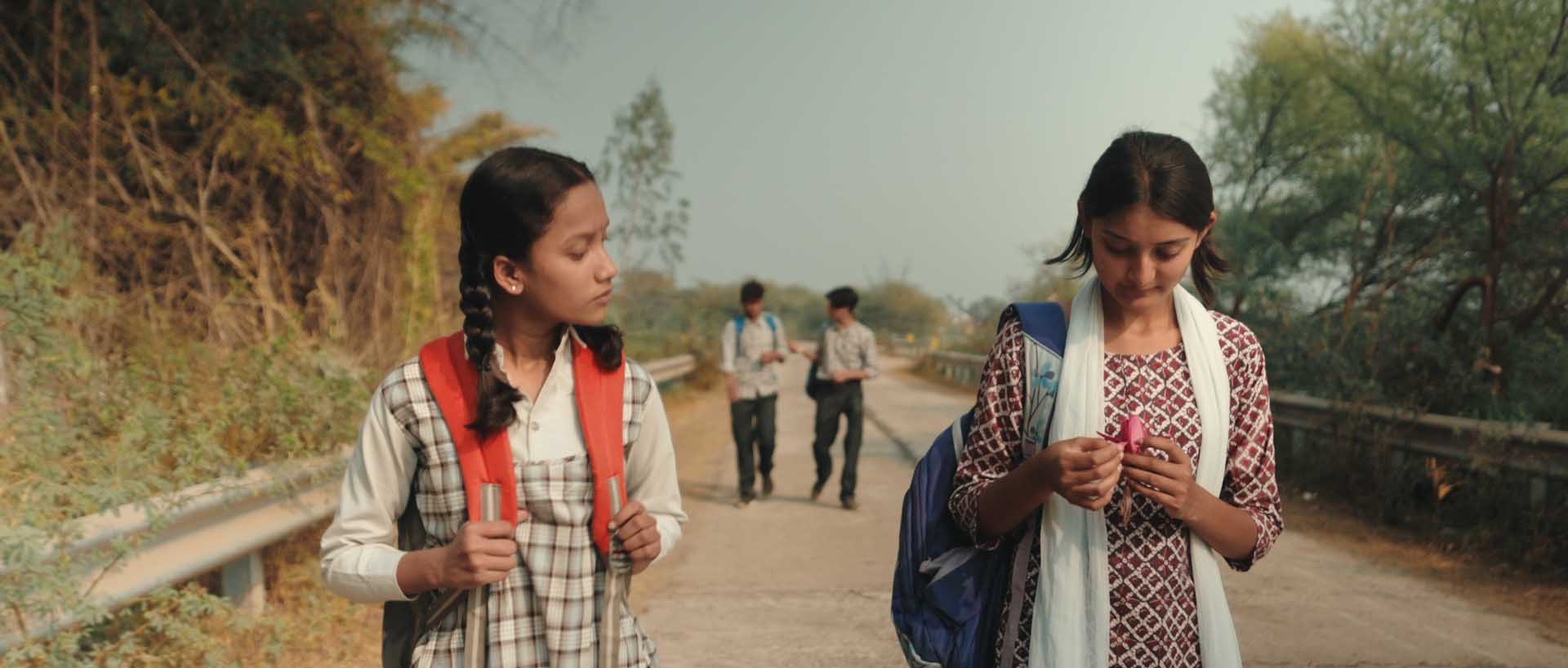 2023 Iris Prize
Malwa Khushan
Coming of age story of two sisters Malwa and Khushan exploring sexuality and attraction in their adolescent years. A new girl arrives in Khushan's classroom and she starts developing feelings for her.
---
DIRECTOR:
Preeti kanungo, Sourav Yadav
PRODUCER:
LOTUS VISUAL PRODUCTIONS & KASHISH ARTS FOUNDATION
India, 20 Minutes
---
Stori dod i oed am ddwy chwaer Malwa a Khushan sy'n archwilio rhywioldeb ac atyniad yn eu harddegau. Mae merch newydd yn cyrraedd ystafell ddosbarth Khushan ac mae hi'n dechrau datblygu teimladau tuag ati.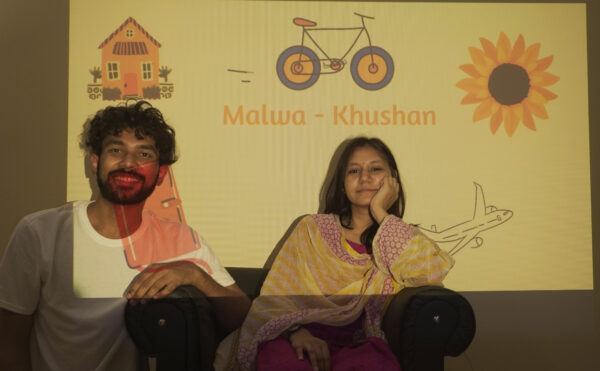 Preeti Kanungo (Director, Malwa Khushan)
Preeti Kanungo is an independent filmmaker and a social worker, who believes in making cinema that speaks to her. She feels passionate about telling stories that provide some answers and the warmth of a tight hug. Through her art, she tries to understand the complexities of human emotions and the human world and present them in simple forms. She is also a part-time stop-motion animator, which is one thing that brings her alive. She wishes to experiment with the medium of cinema and make a lot of experimental films. Malwa Khushan is Preeti's debut narrative film.
Website – https://www.preetikanungo.com/
Sourav Yadav (Director, DP, Malwa Khushan)
Sourav Yadav, a versatile filmmaker, possesses a diverse skill set encompassing cinematography, editing and color grading. He has accumulated various credits to his name, including his notable role as a colorist for the Netflix original web series Little Things. Throughout his career, Sourav's unwavering passion to be in control of what is shown on screen, has driven him to continually push his boundaries; Starting as an editor in 2013, he progressed through roles as a colorist and cinematographer, culminating in his directorial film Malwa Khushan. Having acquired extensive experience both behind the camera and in post-production, Sourav boasts a unique perspective on the art of visual storytelling. He eagerly anticipates further exploration of the intersection between directing and cinematography in his future projects.
Website – https://www.souravdp.com
---
Preeti Kanungo (Cyfarwyddwr, Malwa Khushan)
Mae Preeti Kanungo yn wneuthurwr ffilmiau annibynnol ac yn weithiwr cymdeithasol, sy'n credu mewn gwneud sinema sy'n siarad â hi. Mae hi'n teimlo'n angerddol am adrodd straeon sy'n rhoi rhai atebion a chynhesrwydd cwtsh tynn. Trwy ei chelf, mae'n ceisio deall cymhlethdodau emosiynau dynol a'r byd dynol a'u cyflwyno mewn ffurfiau syml. Mae hi hefyd yn animeiddiwr stop-symud rhan-amser, sef un peth sy'n dod â hi'n fyw. Mae'n dymuno arbrofi gyda chyfrwng y sinema a gwneud llawer o ffilmiau arbrofol. Malwa Khushan yw ffilm naratif gyntaf Preeti.
Sourav Yadav (Cyfarwyddwr, Cyfarwyddwr Ffotograffiaeth, Malwa Khushan)
Mae gan Sourav Yadav, gwneuthurwr ffilmiau amryddawn, sgiliau amrywiol sy'n cwmpasu sinematograffi, golygu a graddio lliw. Mae wedi casglu nifer o gredydau i'w enw, gan gynnwys ei rôl nodedig fel lliwiwr ar gyfer cyfres we wreiddiol Netflix Little Things. Drwy gydol ei yrfa, mae angerdd diwyro Sourav i reoli'r hyn sy'n cael ei ddangos ar y sgrin, wedi ei yrru i wthio ei ffiniau'n barhaus. Gan ddechrau fel golygydd yn 2013, datblygodd trwy rolau fel lliwiwr a sinematograffydd, gan arwain at gyfarwyddo ei ffilm Malwa Khushan. Ar ôl cael profiad helaeth y tu ôl i'r camera ac mewn ôl-gynhyrchu, mae gan Sourav bersbectif unigryw ar y grefft o adrodd straeon gweledol. Mae'n edrych ymlaen yn eiddgar at archwiliad pellach o'r groesffordd rhwng cyfarwyddo a sinematograffi yn ei brosiectau yn y dyfodol.
---