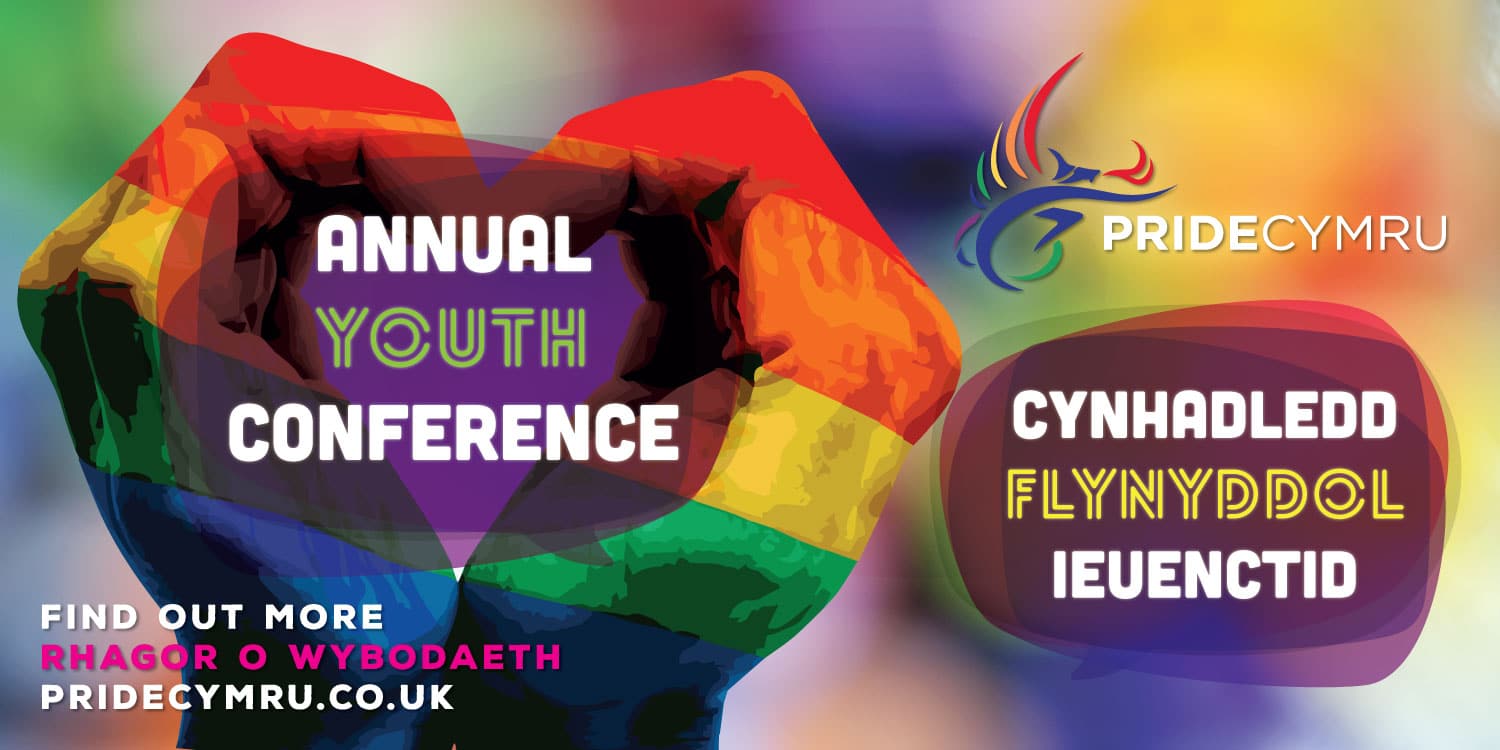 Programme 2016
Pride Cymru Youth Conference 2016
After a very successful first LGBT+ Youth Conference in 2015 . We are pleased to confirm that the Pride Cymru Youth Conference returns in 2016. The conference coincides with International Coming Out Day.
---
PRIDE CYMRU SECOND ANNUAL YOUTH CONFERENCE
THEME: SUPPORTING LGBT+ YOUNG PEOPLE IN WALES
OVERVIEW
In 2015 Pride Cymru held its first LGBT Youth Conference in partnership with the Iris Prize Festival and Youth Cymru . The conference included to opportunity to meet and chat with many different agencies that support Young People in Wales and also view the Youth Shorts shortlisted for the Iris Festival .
For 2016 this FREE to attend Conference goes one step further will all attendees at the Conference being able to view all the 2016 Youth Short nominations and play a part in selecting the 2016 Youth Short winner by taking up your chance to join in the voting process.
Iris Festival celebrates its 10th Anniversary  and we are really pleased that Iris Festival has opened the voting process up to ALL that attend the Conference.
Our Conference takes place in the week of National Coming Out Day ( Oct 11th 2016) and we look to provide a Conference that allows Young People an opportunity to have their voices heard and express their thoughts within a safe, inclusive , fun and informative environment .
Pride Cymru is commitment to supporting young LGBT+ people in Wales and our Young Persons Champion Programme and Youth Council are in place to allow Young People to provide guidance to Pride Cymru on projects and events that are offered to or affect Young LGBT+ People in Wales.
PPROGRAMME OUTLINE
Date: Saturday 15th October 2016
Time: 10.00am till 5.15pm Conference, 5.15pm till 6.30pm Networking Social
Location: Park Inn Hotel and Cineworld
Free Tickets Available : www.pridcymru.co.uk/tickets
For more information contact Cath Harrison : cath@pridecymru.com or Tracey Bancroft: tracey@pridecymru.com
Tel: 029 20 235901
Web Address: www.pridecymru.co.uk
Please note: timings and content may be subject to change
Alex Jones – Young Persons Champion
Alex Jones, aged 19 from Newport is the current Young Persons Champion and has held  this voluntary role since August 2016  and acts as ambassadors for Pride Cymru as well as a voice for LGBT+ young people across Wales. Alex is a role model for the young LGBT+ community and works with people from a range of charities, community groups, companies and public organisations to make sure that the needs of young LGBT+ people are understood, acted upon and delivered as required.
Youth Council Core Members 
Eve Limbrick 
Eve is the youngest members of the council and  the Chair of the Council , she ensures the council runs smoothly .   When discussion is underway, it is the chairperson's responsibility to ensure that it continues to flow smoothly by involving all members present and by not permitting one or two people to dominate the meeting
Luke Samuel
Luke is the Council Secretary
In summary, the Secretary is responsible for: Ensuring meetings are effectively organised and minuted. Maintaining effective records and administration.
Kieren Rankin
Kieren is the Council Communications Manager
Responsible for conveying an all internal and external messages. Responsible for drafting written materials, preparing presentations and communicating via social media platforms.