Additionally, for the first time in the festival's history, UK audiences can join in the experience by watching all the nominated shorts for free online. It also means the Iris Prize, which runs 6th to 11th October, will be reaching a wider audience than ever.
The montage of the 15 films competing for the 2020 Iris Prize Best British Short supported by Film 4 is available here, please enjoy.
The shortlisted films, selected from a record number of submissions, explore a multitude of stories reflecting richly diverse LGBTQI+ experiences of contemporary British life in cities or countryside. The filmmakers invite audiences on journeys of self-discovery and belonging from childhood into old age. These are tales of falling in and out of love, addressing personal battles lost and battles won, all are filled with tears, laughter or hope.  This is a joyous celebration of how we express our individuality in our community, our family, and the wider world, helping to bring us together.  
The winner will receive a package of services sponsored by Pinewood Studios Group. 
Details of the 15 shortlisted films can be found here.
This year also marks the first of new three-year sponsorship agreement with British producer/broadcaster Film4. The agreement will see Film4 acquire broadcast and streaming rights to each of the 15 British LGBT+ short films shortlisted for the newly rebranded 'Iris Prize Best British Short Supported by Film4'. 
Berwyn Rowlands, Festival Director, commented:
"Congratulations to the Class of 2020, in a year where good news is at a premium, I'm delighted we have 15 superbly crafted stories to share in the Best British competition. This year was particularly competitive year with many previous Iris alumni not making the final 15. 
"I can't wait to share these films for the first time with a UK wide audience. I hope that the many thousands who have shown an interest in Iris but have been unable to join us in Cardiff for our annual celebration of LGBT+ cinema, will get a better idea of what the fuss is all about. These films are without a doubt the best of the best."
 Tim Highsted, Senior Editor, Acquired Feature Films for Film4, commented: 
"The Iris Prize, with its focus on diversity, inclusion and new voices, and its setting in Cardiff, is a perfect fit for Film4. Short form content is a critical proving ground for rising talent, but with new platforms allowing for a wider range of voices to be heard, it's also increasingly a draw for viewers.  We're delighted to congratulate this year's shortlisted films and look forward to giving these filmmakers a chance to reach a nationwide audience through Film4 on All 4."
 All of the nominated films are eligible for consideration for BAFTA and can automatically be entered by the filmmakers. You can view all the shortlisted films with extra details about the directors and images by following this link: irisprize.org/bestbritish 
The 35 international short films competing for the Iris Prize supported by The Michael Bishop Foundation will be announced shortly with £30,000 prize going to the winning director. The Iris Prize continues to be the world's largest LGBT+ short film prize. 
The festival opens on Tuesday 6th October and close on Sunday 11th October, with all screenings, talks and events available online for free. There will also be a pay-per-view catch-up service which will run until the end of October. 
The main festival sponsors are: The Michael Bishop Foundation, Welsh Government, the BFI awarding funds from the National Lottery, Ffilm Cymru Wales, Film4, University of South Wales, Co-op Respect, Bad Wolf, Gorilla Group, Peccadillo Pictures, Pinewood Studios, Attitude Magazine, Diva Magazine and The Ministry of Sound.   
The festival also works in partnership with BAFTA Cymru, Pride Cymru and Stonewall Cymru.
15 ffilm amrywiol iawn o bob rhan o'r DU yn cystadlu am becyn o wasanaethau a noddir gan Pinewood Studios Group

 

 

Dwy

 

ffilm

 o 

Gymru

 

yn

 

cyrraedd

 y 15 

olaf

 

Mae nawdd Film4 yn sicrhau bod pob ffilm ar y rhestr fer ar gael i'w gweld ar All4

 

Gall cynulleidfa ledled y DU rannu'r profiad am y tro cyntaf trwy wylio'r holl ffilmiau sy'n cystadlu ar-lein am ddim

 

 
Mae'r aros drosodd heddiw i 15 o wneuthurwyr ffilm wrth i drefnwyr Gwobr Iris gyhoeddi enwau cyfarwyddwyr y ffilmiau byrion sy'n cystadlu am Wobr Ffilm Fer Gorau Ym Mhrydain Gwobr Iris a gefnogir gan Film4. Hefyd, am y tro cyntaf yn hanes yr ŵyl, gall cynulleidfaoedd y DU ymuno a'r ŵyl trwy wylio'r holl ffilmiau byrion enwebedig am ddim ar-lein. Mae hefyd yn golygu y bydd Gwobr Iris, sy'n rhedeg rhwng 6 a 11 Hydref, yn cyrraedd cynulleidfa ehangach nag erioed. 
Mae'r ffilmiau ar y rhestr fer, a ddewiswyd o'r nifer uchaf erioed o ffilmiau, yn archwilio llu o straeon sy'n adlewyrchu profiadau LHDT+ cyfoethog iawn, o fywyd cyfoes Prydain mewn dinasoedd neu gefn gwlad. Mae'r gwneuthurwyr ffilm yn gwahodd cynulleidfaoedd i fynd ar deithiau hunanddarganfod a pherthyn, o'u plentyndod i henaint. Mae'r rhain yn straeon am syrthio i mewn ac allan o gariad, mynd i'r afael â brwydrau personol a gollwyd a'r brwydrau a enillwyd, pob un wedi'u llenwi â dagrau, chwerthin neu obaith. Mae hwn yn ddathliad llawen o sut rydyn ni'n mynegi ein hunigoliaeth yn ein cymuned, ein teulu, a'r byd ehangach, gan helpu i ddod â ni at ein gilydd.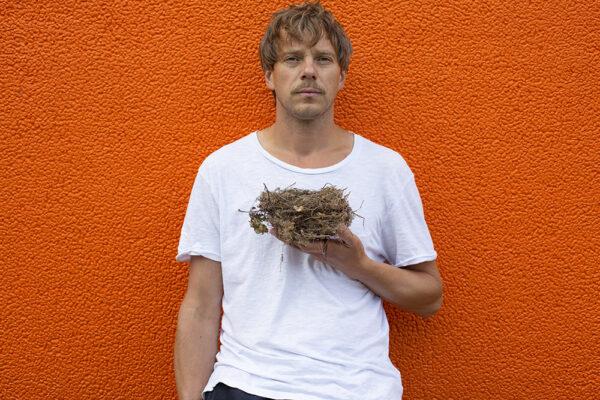 Eleni, gwelwn ddwy ffilm a wnaed yng Nghymru yn cyrraedd y 15 olaf. Mae Go Home Polish, a gyfarwyddwyd gan Ian Smith yn ffilm ddogfen sy'n adrodd stori ffotograffydd sy'n cychwyn taith gerdded mil o filltiroedd yn ôl i'w fan geni, ar ôl iddo weld graffiti ar wal stryd gefn yn mynnu 'Go Home Polish'. Mae Ian Smith wedi'i leoli yng Nghaerdydd, fel y mae Michal Iwanowski, testun y ffilm ddogfen.
A chyfarwyddwyd Rhiw Goch (On The Red Hill) gan Anna Winstone, a raddiodd mewn Cynhyrchu Ffilm Ddogfen, o Brifysgol De Cymru. Mae Rhiw Goch yn adrodd hanes ffermdy Cymreig a basiwyd i lawr cenhedlaeth, diolch i gyfeillgarwch annhebygol. 
Dywedodd Tom Ware, Cyfarwyddwr Cynhyrchu a Pherfformio yn PDC am Rhiw Goch:
"Mae RhiwGoch yn ffilm ddogfen farddonol, bwerus sy'n defnyddio lleoliad hyfryd, naturiol i adrodd stori sy'n drasig ac yn fuddugoliaethus. Mae pob un ohonom yn Ysgol Ffilm a Theledu Cymru yn falch iawn o'r tim o fyfyrwyr rhyfeddol o dalentog o Brifysgol Cymru (ac sydd bellach wedi graddio!) a'i gwnaeth. Mae'n wir lafur cariad a gobeithio eich bod yn ei hoffi gymaint ag yr ydym yn ei wneud." 
Bydd enillydd Gwobr Gorau Ym Mhrydain yn derbyn pecyn o wasanaethau a noddir gan Pinewood Studios Group. 
Dyma'r rhest o'r ffilmiau sydd yn cystadlu eleni.
Dywedodd Berwyn Rowlands, Cyfarwyddwr yr Ŵyl:
"Llongyfarchiadau i Ddosbarth 2020, mewn blwyddyn lle mae newyddion da yn brin, rydw i wrth fy modd bod gennym ni 15 stori grefftus dros ben i'w rhannu yng nghystadleuaeth Gorau Ym Mhrydain.Roedd eleni yn flwyddyn arbennig o gystadleuol gyda llawer o alumni Iris heb gyrraedd y 15 olaf. 
"Ni allaf aros i rannu'r ffilmiau hyn am y tro cyntaf â chynulleidfa ledled y DU. Gobeithio y bydd y miloedd lawer sydd wedi dangos diddordeb yn Iris, ond sydd wedi methu ag ymuno â ni yng Nghaerdydd ar gyfer ein dathliad blynyddol o sinema LHDT+, yn cael gwell syniad o beth yw'r holl ffwdan. Heb os, y ffilmiau hyn yw'r gorau o'r gorau." 
Dywedodd Tim Highsted, Uwch Olygydd, Ffilmiau Nodwedd Caffaeledig ar gyfer Film4:
"Mae Gwobr Iris, gyda'i ffocws ar amrywiaeth, cynhwysiant a lleisiau newydd, a'i lleoliad yng Nghaerdydd, yn ffit perffaith ar gyfer Film4.

Mae cynnwys ffurf fer yn faes profi hanfodol ar gyfer talent cynyddol, ond gyda llwyfannau newydd yn caniatáu i ystod ehangach o leisiau gael eu clywed, mae hefyd yn atyniad cynyddol i wylwyr. Rydym yn falch iawn o longyfarch y ffilmiau ar y rhestr fer eleni ac edrychwn ymlaen at roi cyfle i'r gwneuthurwyr ffilm hyn gyrraedd cynulleidfa ledled y wlad trwy Film4 ar All4." 
Mae pob un o'r ffilmiau a enwebwyd yn gymwys i'w hystyried ar gyfer BAFTA a gall y gwneuthurwyr ffilm fynd i mewn iddynt yn awtomatig. Gallwch weld yr holl ffilmiau ar y rhestr fer gyda manylion ychwanegol am y cyfarwyddwyr, y delweddau ac ati trwy ddilyn y ddolen hon: irisprize.org/bestbritish 
Mae montage y 15 ffilm sy'n cystadlu am Wobr Ffilm Fer Gorau Ym Mhrydain Gwobr Iris a gefnogir gan Film4 2020 ar gael yma: https://youtu.be/w_mPgX9KIyo    
Cyhoeddir y 35 ffilm fer ryngwladol sy'n cystadlu am Wobr Iris gyda chefnogaeth  Sefydliad Michael Bishop yn fuan gyda gwobr o £30,000 yn mynd i'r cyfarwyddwr buddugol. Mae Gwobr Iris yn parhau i fod yn wobr ffilm fer LHDT+ fwyaf y byd. 
Mae'r ŵyl yn agor ddydd Mawrth 6 Hydref ac yn gorffen ddydd Sul 11 Hydref, gyda'r holl ddangosiadau, sgyrsiau a digwyddiadau ar gael ar-lein am ddim. Bydd gwasanaeth dal i fyny talu-i-wylio hefyd a fydd yn rhedeg tan ddiwedd mis Hydref.
Y prif noddwyr yw: Sefydliad Michael Bishop, Llywodraeth Cymru, BFI yn dyfarnu arian o'r Loteri Genedlaethol, Ffilm Cymru Wales, Film4, Prifysgol De Cymru, Co-op Respect, Bad Wolf, Grŵp Gorilla, Peccadillo Pictures, Pinewood Studios, Cylchgrawn Attitude, Cylchgrawn Diva, a The Ministry of Sound.   
Mae'r ŵyl hefyd yn gweithio mewn partneriaeth â BAFTA Cymru, Pride Cymru a Stonewall Cymru.