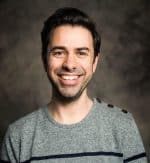 Andrew Murphy
Andrew was born and raised in Halifax, Nova Scotia. He began working with the Atlantic Film Festival in 1999, serving as Programming Manager, overseeing the AFF Programming Department, helping secure Galas, Special Presentations as well as foreign independent titles, niche genre midnight titles and LGBT content.
In 2012, Andrew joined Inside Out LGBT Film Festival to serve as Director of Programming for its Toronto and Ottawa festivals and year-round initiatives. Andrew recently served as a member of the esteemed Teddy Jury for the Berlin International Film Festival in 2014. Inside Out celebrated its 26th annual edition in 2016 over 11 days at the TIFF Bell Lightbox.
Andrew has a Bachelor of Arts in Anthropology and a Bachelor of Journalism and is still finding new ways to put them to use.
"I reckon I first met Berwyn back in 2005 when I had the honour of sitting on a jury for the Celtic Media Festival which happened to take place in Cardiff that year. It was my first time sitting on a jury in my professional career and it was one of the best experiences, not just professionally, but also in that I met several people with whom I'd forge life-long friendships. As a result, Cardiff holds a very special place in my heart, and I am humbled and extremely excited to be part of the Iris Prize Jury on its 10th Anniversary, as a representative of Inside Out, one of Iris Prize's original partner festivals. Iechyd Da!"
Follow me on twitter