David:
You're an Iris alumnus, with 'The Hunter' being shortlisted last year. 'Brutal' marks a complete change in direction, and we've already spoken a bit about why you were drawn to making a comedy – so how did the project come into being? Were you involved from the start, or was it a project looking for the right director?
---
Sam:
I'm so honoured to be back at Iris a second year with my follow-up short, BRUTAL. My tastes generally lean toward drama, but like a lot of people after two difficult and chaotic years of Covid I turned to comedy for some joy. I was desperate to make something that would be as fun to make as it (hopefully) would be for an audience to watch. I asked my friend and super talented writer Nick Citton if he had anything we could shape into a short. He had an idea for a comedy set in a cable news network starring an egomaniacal fading star. We had all been glued to the news 24/7 and the news world seemed ripe for satire.  We developed it together as a short along with producers Julie Christeas and Cheyenne Jackson, who came on board in his first-ever producer role.
---
David
: He's playing against type in this, and clearly having a blast, as are the ensemble cast. How were the characters developed, and what did the actors bring to each one that might not have been in the script?
---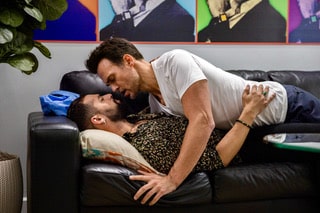 Sam:
It was an absolute joy getting to work with this insanely talented ensemble. The characters were already incredibly rich and specific on the page, but each actor brought something unique to shape their character during filming.  Cheyenne in real life has a heart of gold and is normally cast as the good guy, but for Jack Roth he really jumped into the naughtiness of it all and having to act 90% of the film with his eyes closed was a new challenge. Angelica Ross brought her spot-on dry comedic timing and had everyone falling out of their chairs. Rachael Harris just commands a room and as the head producer she was a force. Johnny Sibilly brought his sincere sweetness to his role of Craig the makeup artist, and Drew Droege could teach a masterclass in physical comedy - every movement is imbued with humor. Finally, in a small but pivotal role, Matthew Morrison also got to play against his well-known Glee persona and have fun as Jack's nemesis.
---
David:
The concept and characters have tons of potential. It's reminiscent of things like Veep and left me wanting much more. Will we see a Brutal TV show?
---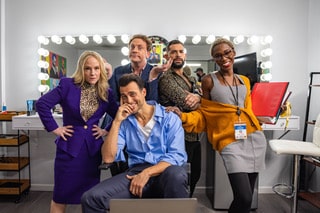 Sam:
I'm so happy to hear you say that. YES - we have developed BRUTAL into a comedy series and will be pitching it very soon.  Hopefully we will have much more of the demented-but-lovable Jack Roth and this gang to share.
---
BRUTAL

 is part of Programme 2: High Drama - Wednesday 12th October - Premiere 2
---