David: T
he film is based on real events, set during the Godhra riots of 2002. I'm guessing the story of Samir and Rafiq is fictional, emblematic of the difficulties faced by those living in Gujarat at the time, but did you have to do much research into the historical side of it, and if so, what did that entail?
---
Pradipta:
.I was studying at NID, Ahmedabad in 2002. The story is actually based on a dear friend who saved a Kashmiri Muslim man during the riots. As I was living there during that time I experienced the city, the people, the culture, and hence had much less to research. Samir and Rafiq are actually two real people, some situations are fictional, and the names of course are given names, rest all is real.
---
David:
Leading on from that, the film was made almost 20 years after the violence in Gujarat. Do you think you could have made this film any earlier, or does a story like this require distance and time to reflect on what happened?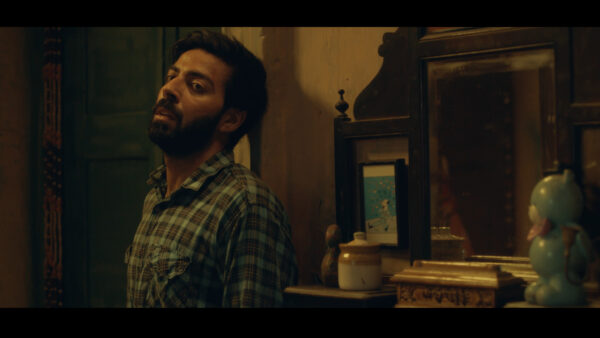 Pradipta:
Of course, a story as complex as this, and at the same time as humane as this one needed some distance. After I graduated, the mundaneness of life and the rat race took over. But somehow this incident never left me. I wanted to express this in some art form. Also, a character like Samir needs to be represented not just authentically but with all its shades. And that took some time.  We also intended to shoot at real locations. but for one reason or the other, we could not. Finally, Muhaifz was shot in between two lockdowns in a studio in Mumbai.
---
David:
When you began developing the story, was Samir always going to be Hijra? One of the things I loved about the film is that the Hijra character is front and centre, and I came away from it feeling like I knew more about them.
---
Pradipta:
Samir is not Hijra, but identifies as a Trans person. The expression of clapping was and still is an expression of empowerment for Gay and Trans community in India. That's why, when devoid of options, Samir uses Clapping to save Rafiq, which actually happened during the real incident also. This act of clapping at the locality where people knew Samir as a married man with a child, jeopardized his life, family. Samir gives up his identity while saving Rafiq. In India gay, trans people are often forced to choose a dual life, making them more vulnerable. Since the characters are based on real incidents and people, I used story as the basis and took my characters through the story. We developed these characters during workshops. The actor who played Samir had a real reference and even got to meet the real person, but Rafiq was developed in the workshops. The only reference I had from my friend was how the Muslim boy's eyes appeared, and so his character has less dialogue.
---
David:
What has the reaction been like in India? It was well-received at Kashish, but has it been screened elsewhere, and if so has there been any geographical and culture variation in how audiences react to it?
---
Pradipta:
We are yet to showcase it in India anywhere other than Kashish. We are equally excited and nervous to see how that goes.
---
David:
We've had 14 films from India since the festival began, but only 3 of those, including your own 'The Night is Young' were directed by women. We've had women's stories, such as Rohan Kanawade's 'U for Usha', but men still dominate the list. Both 2021 and 2022's nominations from Kashish have had women directors, with Aarti Neharsh's The Song We Sang and now Muhafiz. Is this a sign of things to come?
---
Pradipta:
You tell me. year after year we feel that the women and Trans filmmakers will get equal footing. but rather than keeping an eye on long term goal, we get excited at short wins. Even small successes make us cheer louder. I am yet to believe that there has been a fundamental shift in the attitude of the industry towards us.
---
POSTSCRIPT
---
Our conversation about the film coincided with Hindutva (Hindu nationalist) attacks on the Muslim community in Leicester, something I mentioned in our most recent email exchange.
---
David: 
This is amazing! Thank you so much for this. It's kind of heart-breaking that on the day when I'm sending this, there have been Hindutva attacks against the Muslim community in Leicester, life mirroring art, but this only makes your film more powerfully relevant for our audience.
---
Pradipta: 
It's sad indeed. We - humans - are steadily proving that we are more inclined towards hatred than love and compassion. Very unfortunate indeed, at the hour when the nation is mourning such a great loss. Let's hope that our stories and little initiatives spread the message of humanity. Thanks to organisations like yours who keep artists like us afloat by giving our stories the visibility they need.
---