St David AwardS 2022
The director of the Iris Prize LGBT+ Film Festival,
Berwyn Rowlands
, has been presented with the
2022 St David Award
for Culture during an emotional in-person ceremony held at the
Royal Welsh College of Music & Drama
in
Cardiff
. The
St David Awards
, now in their 9th year, celebrate the extraordinary achievements and contributions of people in or from Wales from all walks of life.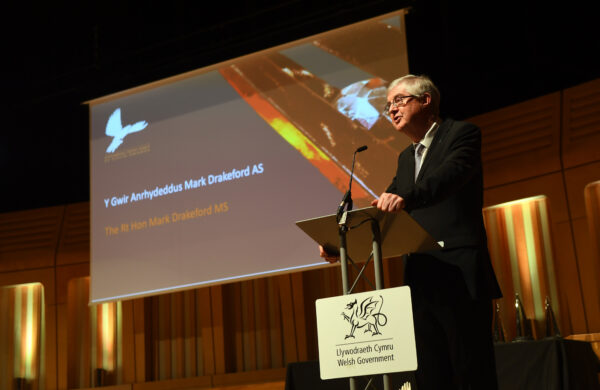 Congratulating the winners, the First Minister, Mark Drakeford, said:
It's fantastic to be able to award this year's St David Awards finalists in person once again. They are an inspiring group of people who deserve to be congratulated on their contribution to Welsh life. Many have courageously and selflessly served others, some are trailblazers in their fields, others have worked tirelessly to protect the environment, and we are lucky to have them all living and working in Wales.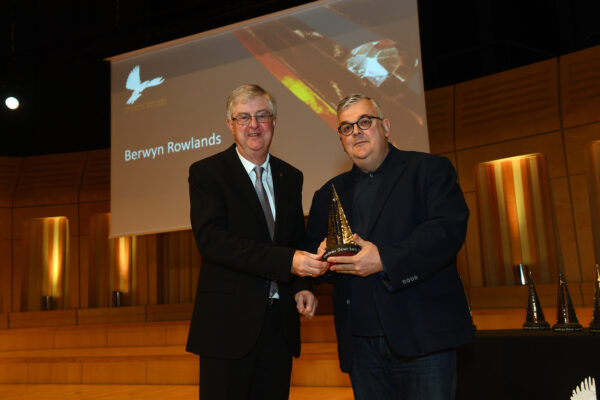 Responding to receiving the awards Berwyn said:
I'm delighted to accept this award and feel it is something to be shared with everyone who have been involved in guiding the Iris Prize to be the success it is today. It does feel a little strange to be receiving an award; for the past 15 years I've been involved in handing them out to film makers from all over the world.
During a filmed interview, which was screened at the awards show, Berwyn said:
"I hope this recognition will allow Wales to take full advantage of what we have created in Cardiff and help us to continue to remind filmmakers that Wales is an amazing place to produce films. As Iris continues to share LGBT+ stories from around the world we are also able to recognise that Wales is a diverse and tolerant country, and that this is celebrated annually when Cardiff hosts the global LGBT+ film making community at the Iris Prize LGBT+ Film Festival."
---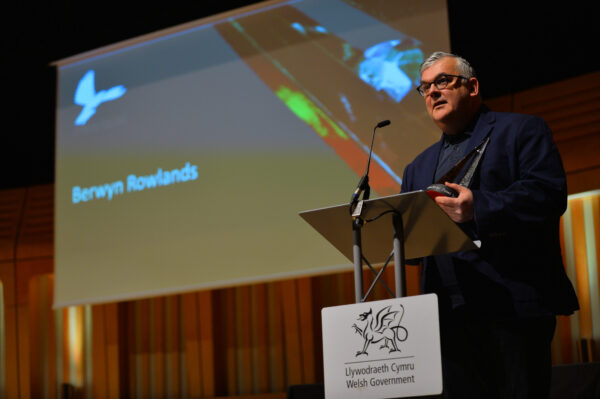 Cyflwyno Gwobr Dewi Sant am Ddiwylliant 2022 i Berwyn Rowlands
"Rwy'n gobeithio y bydd y gydnabyddiaeth hon yn caniatáu i Gymru fanteisio i'r eithaf ar yr hyn rydym wedi'i greu yng Nghaerdydd"
"Rydyn ni'n lwcus i'w cael nhw i gyd yn byw ac yn gweithio yng Nghymru."
Mae cyfarwyddwr Gŵyl Ffilm LHDT+ Gwobr Iris, Berwyn Rowlands, wedi derbyn Gwobr Dewi Sant am Ddiwylliant 2022 yn ystod seremoni emosiynol wyneb-yn-wyneb a gynhaliwyd yng Ngholeg Brenhinol Cerdd a Drama Cymru yng Nghaerdydd. Mae Gwobrau Dewi Sant, sydd bellach yn eu 9fed flwyddyn, yn dathlu llwyddiannau a chyfraniadau eithriadol pobl o bob cefndir, sy'n byw yng Nghymru neu sy'n dod o Gymru.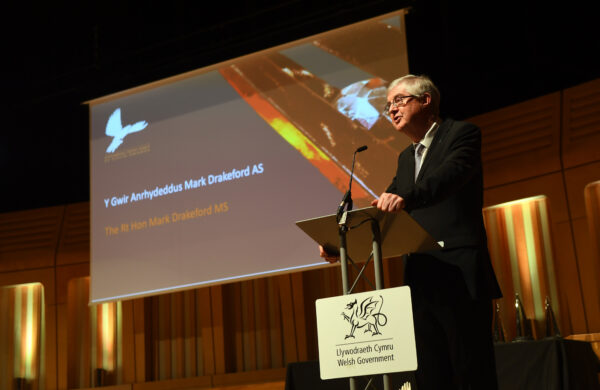 Wrth longyfarch yr enillwyr, dywedodd y Prif Weinidog:
Mae'n wych cael bod yma yn y cnawd unwaith eto i roi gwobrau i'r bobl sydd wedi cyrraedd rownd derfynol Gwobrau Dewi Sant eleni. Maen nhw'n grŵp o bobl sy'n ysbrydoli eraill ac maen nhw'n haeddu cael eu llongyfarch ar eu cyfraniad i fywyd Cymru.Mae llawer ohonyn nhw wedi gwasanaethu eraill mewn ffordd ddewr ac anhunanol, mae rhai yn torri tir newydd yn eu meysydd, mae eraill wedi gweithio'n ddiflino i ddiogelu'r amgylchedd, ac rydyn ni'n ffodus eu bod i gyd yn byw ac yn gweithio yng Nghymru.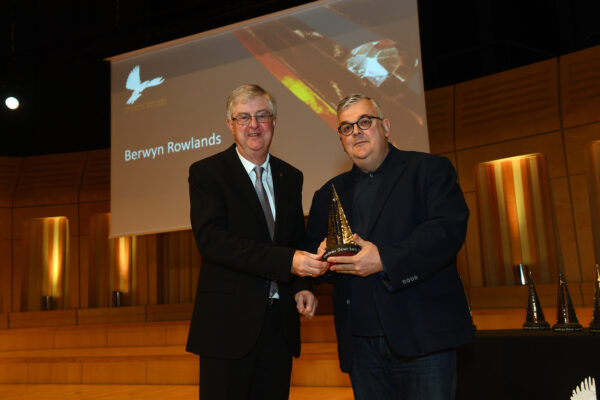 Wrth ymateb i dderbyn y gwobrau dywedodd Berwyn:
Rwy'n falch iawn o dderbyn y wobr hon ac rwy'n teimlo ei bod yn rhywbeth i'w rannu gyda phawb sydd wedi bod yn rhan o arwain Gwobr Iris i fod yn llwyddiant heddiw. Mae'n teimlo braidd yn rhyfedd i fod yn derbyn gwobr; dros y 15 mlynedd diwethaf rwyf wedi bod yn ymwneud â'u rhoi i wneuthurwyr ffilmiau o bob cwr o'r byd.
Yn ystod cyfweliad wedi'i ffilmio, a gafodd ei sgrinio yn y sioe wobrwyo, dywedodd Berwyn:
"Rwy'n gobeithio y bydd y gydnabyddiaeth hon yn caniatáu i Gymru fanteisio'n llawn ar yr hyn rydym wedi'i greu yng Nghaerdydd a'n helpu i barhau i atgoffa gwneuthurwyr ffilmiau bod Cymru'n lle anhygoel i gynhyrchu ffilmiau. Wrth i Iris barhau i rannu straeon LHDT+ o bob cwr o'r byd, rydym hefyd yn gallu cydnabod bod Cymru'n wlad amrywiol a goddefgar, a bod hyn yn cael ei ddathlu'n flynyddol pan fydd Caerdydd yn cynnal y gymuned gwneud ffilmiau LHDT+ fyd-eang yng Ngŵyl Ffilm LHDT+ Gwobr Iris."
---
The main festival sponsors are:
The Michael Bishop Foundation, Creative Wales, a Welsh Government agency that supports the creative sectors in Wales , the BFI awarding funds from The National Lottery, Ffilm Cymru Wales, Film 4, University of South Wales, Cardiff University, Co-op Respect, Bad Wolf, Gorilla Group, Peccadillo Pictures, Pinewood Studios, Attitude Magazine, Diva Magazine, The Ministry of Sound, Froot and Aberystwyth University.  The festival also works in partnership withBAFTA Cymru, Pride Cymru and Stonewall Cymru.
Iris on the Move 2022
is also supported by
Film Hub Wales
as part of the
BFI Film Audience Network
(FAN), made possible by the National Lottery.