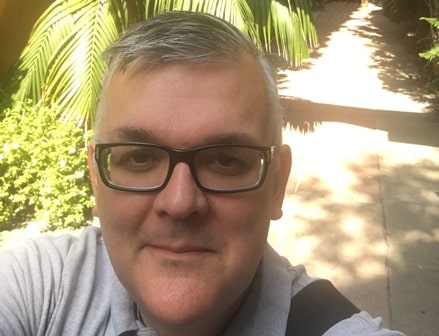 BERWYN ROWLANDS
FESTIVAL DIRECTOR
Berwyn believes that popular music started with Abba and was eventually taken to another level by the Pet Shop Boys. When his home was burgled in 2000 he was relieved that his CD collection was not disturbed by the intruder who was very kind, stealing only his prescription Ray-ban glasses and dirty sports kit!
He's come to terms with the fact that he is not a big fan of musical theatre but has seen Mama Mia twice, once in Vegas when he and Grant were also offered tickets to see Celine Dion which they passed and once in Cardiff where his father was seen tapping his foot – the nearest they've ever seen Mr Rowlands senior dance!
When not working on his garden (once a year) or cooking for friends (four times a year) Berwyn can be found most evenings in his favourite Cardiff restaurants.
The serious bit!
A passionate self-starter with a significant track record of turning artistic and strategic vision into reality within budget.  Adept at gaining strategic level buy-in to his vision and securing appropriate resources.  Leads passionate, sustainable organisations that achieve realistic, measurable objectives.  Builds effective teams and has a track record of nurturing and encouraging staff.
In other words…..
A film fan from an early age Berwyn was producing "movies" using his 8mm camera and projecting films for friends in his parent's front room from the age of 9. Berwyn has produced films for cinema and TV content in Welsh and English which has been broadcast on BBC, ITV and S4C including Llety Piod (UK) a 90 min TV Movie starring Bill Nighy. He organized his first public film festival in Aberystwyth, Wales in 1989 which became known as the Welsh International Film Festival and included a weekend celebration of LGBT film.
In 1997 aged 31 Berwyn was appointed as the first Chief Executive of Sgrîn: The Media Agency for Wales. In this role, Berwyn led the establishment of Wales' National Film and Sound Archive and secured the co-operation of all 22 local authorities to see a unified all-Wales location service – The Wales Screen Commission – established in 2002
In 2006 he established the Iris Prize – the world's largest LGBT short film prize at £30,000. 9 short films have been produced to date with the Iris Prize including Burger and Followers which screened at the Sundance Film Festival. In 2016 the festival celebrated its 10th anniversary and was recognized by Bafta as an "A" list festival. The Cardiff based event has featured in the top 50 film festivals in the world by Movie Maker Magazine for four years. The Iris Prize was recognized by The Queen at a reception for the British Film Industry in 2013.
He is regularly asked to talk about film and LGBT issues on TV and radio and has also served on film award juries and speaks on both programming and event production at conferences. He has contributed to the European Short Film Symposium, Cork, the International Film Festival Summit New York and participated on the following film juries: OUTFEST, LA; Mezipatra, Prague; Kashish, Mumbai; INSIDEOUT, Toronto and Gaze, Dublin.
Follow me on twitter