As Cardiff begins to prepare to host the biggest gathering of LGBTQ+ filmmakers, the 16
th
Iris Prize Film Festival's Opening Night brings you the best of Welsh filmmaking, with six new short films being premiered on the Opening Night on Tuesday 11 October at 7pm. Angharad Mair from S4C's primetime magazine programme returns as host for the evening, along with special guests and filmmakers from around the world. This is the moment during the festival when Wales shouts loud and proud to the world – look what we are, and here are our stories. The international celebration of diversity and visibility of the LGBTQ+ community begins at 7pm with the UK premiere of six short films made in Wales, four of which were created by women:
Cardiff, directed by Sarah Smith (winner of the 2019 Iris Prize)
Blooming, directed by Efa Blosse Mason and Sophie Marsh
I Shall be Whiter than Snow, directed by Frederick Stacey
Queens Cwm Rag, directed by Lindsay Walker
Sally Leapt Out Of A Window Last Night, directed by Tracy Spottiswoode
G♭, directed by Peter Darney
---
Berwyn Rowlands, Iris Prize Film Festival Director, said:
'We are thrilled to be back in person this year, welcoming filmmakers from all over the world to Cardiff.  This year, Opening Night features six short films made in Wales. One of our youngest directors – Efa Blosse Mason (Blooming) – has been with the festival for many years since she began her journey as filmmaker at Ysgol Plasmawr in Cardiff.'
Another film featured on Opening Night is the latest Iris in the Community production, I Shall Be Whiter Than Snow,
directed by Frederick Stacey, documenting the true love story of a lesbian couple and the wonderful NHS staff who cared for one of the women during her cancer treatment.
Berwyn Rowlands added:
'We believe that we have created something very special in Wales for national and international audiences. Each short film has been made with the support of all the major broadcasters and media organisations in Wales, proving that Welsh talent is given the opportunity to grow and develop to a world class standard. Opening is a night of two halves as guests leave Premiere Cinemas and take a few steps to the Capitol Shopping Centre which is transformed for the night into party central when guest will be entertained by festival partners the Co-op and offered a chance to taste some amazing food created by David Llewellyn from the Co-op's Delicious Food Team. All-inclusive tickets to the films and party are available for only £12. 'Opening night is now unbelievably popular and feels like the Oscar ceremony for short films, even before the competition begins, and there will be a second opportunity to watch the programme of films on Sunday 16 October, at Chapter Arts Centre.'
---
Further information about the Opening Night short films
Cardiff 
Director: Sarah Smith
Writer: Phillip Guttmann
Cast: Richard Elis, Ruth Madoc and Stifyn Parri
Perpetually single, Frederick envies his fabulous gay friend Joe, who seems to have a never-ending supply of paramours despite being happily married himself. But when Frederick's meddling mother arrives for a visit, she thrusts him into a forbidden romance, and a series of unforeseen betrayals hilariously expose some carefully held secrets.
---
Blooming
Director: Efa Blosse Mason and Sophie Marsh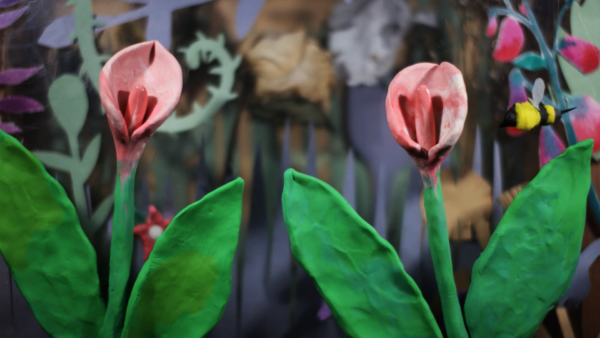 Blooming is a playful short animation which celebrates desire and pleasure using sticky, fleshy plasticine. It invites the audience to take a look from a plants eye view and explore the wonderful queerness within nature.
---
Queens Cwm Rag 
Director / Camera / Editor: Lindsay Walker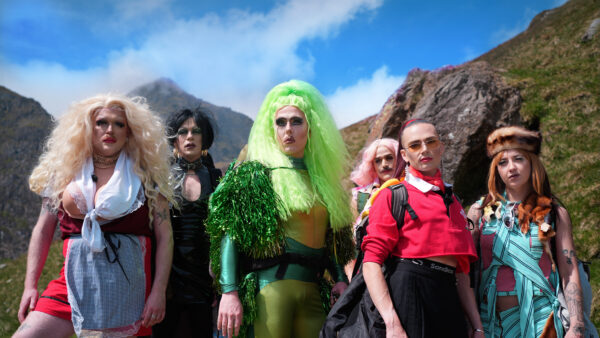 A team of drag queens marched to the peak of Snowdon to raise money for Trans Aid Cymru, an organisation dedicated to supporting the trans and non-binary communities in Wales. Award winning filmmaker Lindsay Walker had a camera!
---
Sally Leapt Out Of A Window Last Night 
Director: Tracy Spottiswoode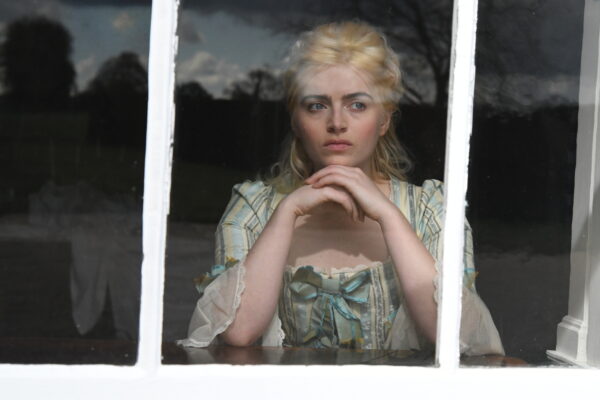 Ireland 1778. Sally and Eleanor flout convention and scandalise society to escape the fate their families have planned for them. They elope. Inspired by the true story of the legendary 'Ladies of Llangollen.'
---
I Shall be Whiter than Snow  
Director: Frederick Stacey
Writer: Jonathan North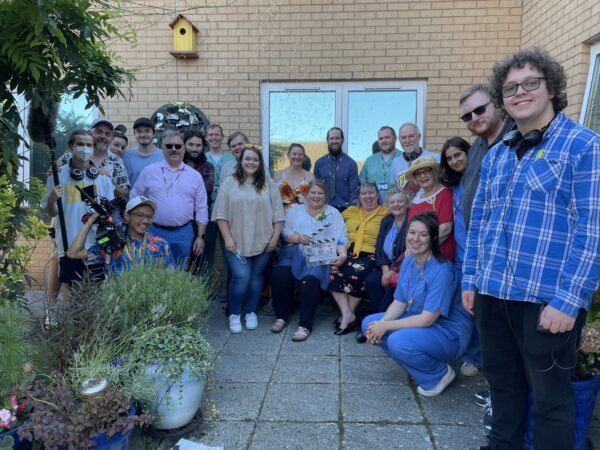 This short film is based on the true story of a lesbian couple, Kim and Roseann, who were married at Velindre Hospital, Cardiff in 2018 whilst Kim was receiving treatment for cancer. This emotional film is a touching love story between two women and is also a celebration of the amazing staff who work for our NHS and the importance of compassionate care. The film stars Rebecca Harries and Lynn Hunter, supported by a cast of NHS professionals.
---
G ♭
Writer/Director: Peter Darney
Cast: Richard Wilson and Aled ap Steffan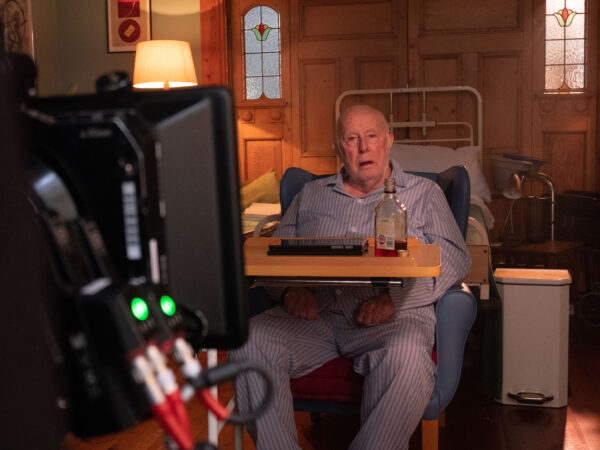 84-year-old cellist Ceri has lost his husband to cancer and his ability to play to a debilitating stroke. His dull life is spent in solitude, save for the interruptions of agency carers and the solace of his iPad. Seizing the opportunity that a night-time staff shortage brings; he uses Grindr to invite 20-year-old rent-boy Iestyn to visit.
---
Buy Tickets (from 16th September) for 2022 Opening Night Here
---
Noson Agoriadol Gwobr Iris yn gweld chwe ffilm newydd yn cael eu dangos am y tro cyntaf
Premieres y DU i chwe ffilm fer a wnaed yng Nghymru, gan gynnwys ffilm fer newydd Sarah Smith, enillydd Gwobr Iris 2019, Cardiff, a saethwyd yng Nghaerdydd ac I Shall be Whiter than Snow, cynhyrchiad diweddaraf Iris yn y Gymuned
Iris yn croesawu gwneuthurwyr ffilmiau rhyngwladol a domestig yn ôl i'r ŵyl wyneb-yn-wyneb ers 2019
Angharad Mair o raglen gylchgrawn oriau brig S4C, Heno, yn dychwelyd fel cyflwynydd ar gyfer Noson Agoriadol
'Mae'r Noson Agoriadol yn teimlo fel seremoni'r Oscar am ffilmiau byrion, hyd yn oed cyn i'r gystadleuaeth ddechrau'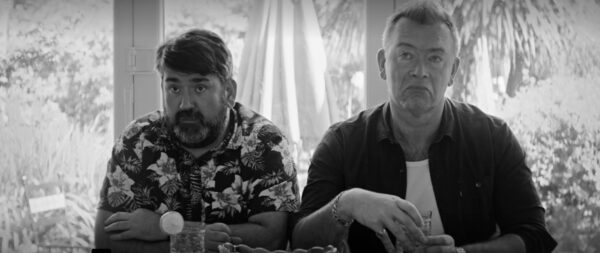 Wrth i Gaerdydd ddechrau paratoi at gyflwyno'r casgliad mwyaf o wneuthurwyr ffilmiau LHDTQ+, bydd 16
eg
Noson Agoriadol Gŵyl Ffilm Gwobr Iris yn dod â'r gorau o wneud ffilmiau o Gymru i chi, gyda chwe ffilm fer newydd yn cael eu dangos ar y Noson Agoriadol, nos Fawrth 11 Hydref am 7pm. Bydd Angharad Mair o raglen gylchgrawn oriau brig S4C yn dychwelyd fel gwesteiwraig ar gyfer y noson, ynghyd â gwesteion a gwneuthurwyr ffilmiau arbennig o bedwar ban byd. Dyma'r foment yn ystod yr ŵyl pan mae Cymru'n gweiddi'n uchel ac yn falch i'r byd - edrychwch beth ydyn ni, a dyma'n straeon ni. Mae dathliad rhyngwladol amrywiaeth a gwelededd y gymuned LHDTQ+ yn dechrau am 7pm gyda dangosiad cyntaf y DU o chwe ffilm fer a wnaed yng Nghymru, pedair ohonynt wedi'u creu gan fenywod:
---
Cardiff, cyfarwyddwyd gan Sarah Smith (enillydd Gwobr Iris 2019)
Blooming, cyfarwyddwyd gan Efa Blosse Mason a Sophie Marsh
I Shall be Whiter than Snow, cyfarwyddwyd gan Frederick Stacey
Queens Cwm Rag, cyfarwyddwyd gan Lindsay Walker
Sally Leapt Out Of A Window Last Night, cyfarwyddwyd gan Tracy Spottiswoode
G♭, cyfarwyddwyd gan Peter Darney
Dywed Berwyn Rowlands, Cyfarwyddwr Gŵyl Ffilm Gwobr Iris:
'Rydym wrth ein boddau i fod yn ôl wyneb-yn-wyneb eleni, yn croesawu gwneuthurwyr ffilmiau o bob cwr o'r byd i Gaerdydd.  Eleni, mae'r Noson Agoriadol yn cynnwys chwe ffilm fer a wnaed yng Nghymru. Mae un o'n cyfarwyddwyr ieuengaf - Efa Blosse Mason (Blooming) - wedi bod gyda'r ŵyl ers blynyddoedd lawer ers iddi ddechrau ar ei thaith fel gwneuthurwr ffilmiau yn Ysgol Plasmawr yng Nghaerdydd.'
 Ffilm arall sy'n cael ei chynnwys ar y Noson Agoriadol yw'r cynhyrchiad diweddaraf gan Iris yn y Gymuned, I Shall Be Whiter Than Snow, a gyfarwyddwyd gan Frederick Stacey. Mae'n cofnodi stori gariad go iawn cwpl lesbiaidd a staff gwych y GIG a ofalodd am un o'r menywod yn ystod ei thriniaeth canser.
Ychwanegodd Berwyn Rowlands:
'Credwn ein bod wedi creu rhywbeth arbennig iawn yng Nghymru i gynulleidfaoedd cenedlaethol a rhyngwladol. Gwnaed pob ffilm fer gyda chefnogaeth holl brif ddarlledwyr a mudiadau cyfryngau Cymru, gan brofi bod talent Cymru yn cael y cyfle i dyfu a datblygu i safon fyd-eang. 'Mae'r Noson Agoriadol yn noson o ddau hanner wrth i westeion adael Premiere Cinemas a chymryd ychydig o gamau i Ganolfan Siopa Capitol sy'n cael ei drawsnewid ar gyfer y noson i fod yn fan partïo canolog pan fydd gwestai'n cael eu diddanu gan bartneriaid yr ŵyl, y Co-op, a chynnig cyfle i flasu bwyd anhygoel a grëwyd gan David Llewellyn o Dîm Bwyd Blasus y Co-op. Mae tocynnau holl-gynhwysol i'r ffilmiau a'r parti ar gael am £12 yn unig. 'Mae'r noson agoriadol bellach yn anghredadwy o boblogaidd ac yn teimlo fel seremoni Oscar ar gyfer ffilmiau byrion, hyd yn oed cyn i'r cystadlu ddechrau, a bydd ail gyfle i wylio'r rhaglen o ffilmiau ar nos Sul 16 Hydref, yng Nghanolfan Gelfyddydau Chapter.'
---
Mwy o wybodaeth am ffilmiau byrion y Noson Agoriadol
Cardiff
Cyfarwyddwraig: Sarah Smith
Awdur: Phillip Guttmann
Cast: Richard Elis, Ruth Madoc a Stifyn Parri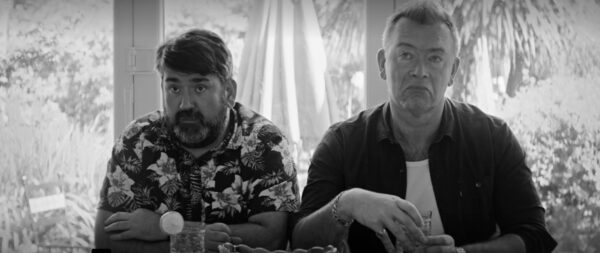 Yn barhaol sengl, mae Frederick yn genfigennus o'i ffrind hoyw gwych Joe, sy'n ymddangos fel pe bai ganddo gyflenwad diddiwedd o gariadon er iddo fod yn briod ei hun, yn hapus. Ond pan fydd mam fusneslyd Frederick yn cyrraedd am ymweliad, mae hi'n ei wthio i ramant waharddedig, ac mae cyfres o fradychiadau annisgwyl yn datgelu rhai cyfrinachau.
---
Blooming
Cyfarwyddwyr: Efa Blosse Mason a Sophie Marsh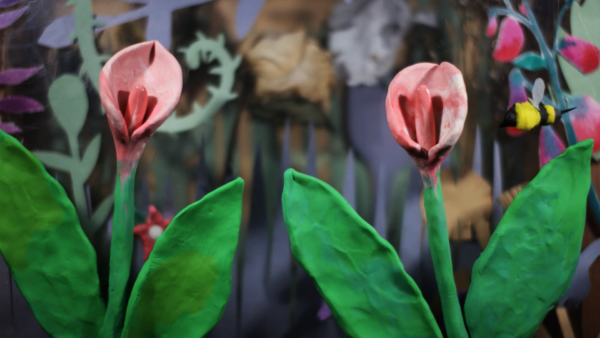 Mae Blooming yn animeiddiad byr chwareus sy'n dathlu awydd a phleser gan ddefnyddio
plasticine
gludiog, cnawdol. Mae'n gwahodd y gynulleidfa i gymryd golwg o olwg llygaid planhigyn ac archwilio'r
queerness
gwych o fewn natur.
---
Queens Cwm Rag
Cyfarwyddwraig / Camera / Golygydd: Lindsay Walker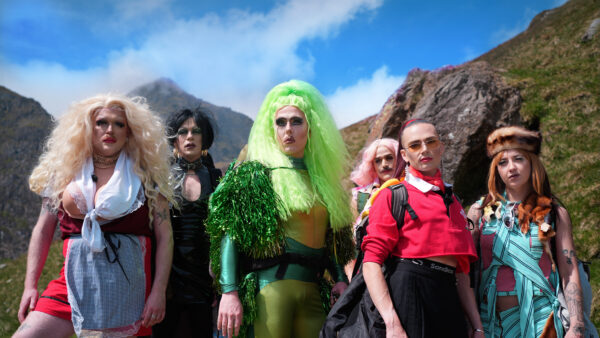 Gorymdeithiodd tîm o freninesau drag i gopa'r Wyddfa i godi arian i Trans Aid Cymru, mudiad sy'n ymroddedig i gefnogi'r cymunedau traws a anneuaidd yng Nghymru. Roedd gan y gwneuthurwraig ffilmiau arobryn Lindsay Walker gamera!
---
Sally Leapt Out Of A Window Last Night
Cyfarwyddwraig: Tracy Spottiswoode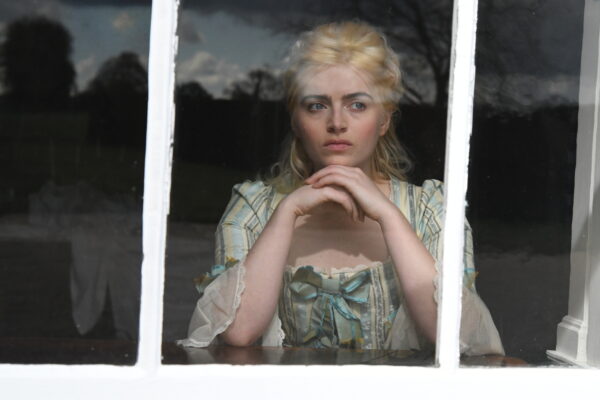 Iwerddon 1778. Mae Sally ac Eleanor yn herio'r arfer ac yn a wfftio cymdeithas i ddianc rhag y dynged mae eu teuluoedd wedi cynllunio ar eu cyfer. Maen nhw'n rhedeg i ffwrdd i briodi. Wedi'i ysbrydoli gan stori wir y chwedlonol Menywod Llangollen.'
---
I Shall be Whiter than Snow
Cyfarwyddwr: Frederick Stacey
Awdur: Jonathan North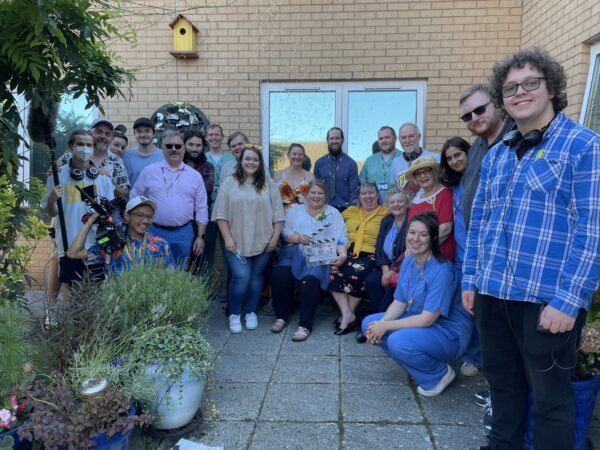 Mae'r ffilm fer hon yn seiliedig ar stori wir cwpl lesbiaidd, Kim a Roseann, a briododd yn Ysbyty Felindre, Caerdydd yn 2018 tra roedd Kim yn cael triniaeth am ganser. Mae'r ffilm emosiynol hon yn stori garu deimladwy rhwng dwy fenyw ac mae hefyd yn ddathliad o'r staff anhygoel sy'n gweithio i'n GIG a phwysigrwydd gofal tosturiol. Mae'r ffilm yn serennu Rebecca Harries a Lynn Hunter, gyda chefnogaeth cast o weithwyr proffesiynol y GIG.
---
G ♭
Awdur/Cyfarwyddwr: Peter Darney
Cast: Richard Wilson ac Aled ap Steffan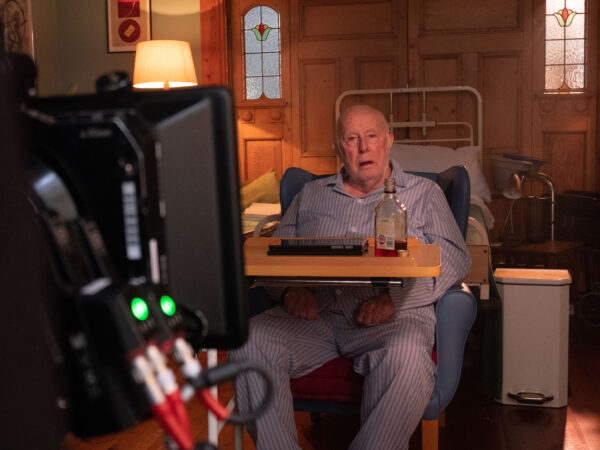 Mae'r sielydd 84 oed Ceri wedi colli ei ŵr i ganser a'i allu i chwarae i strôc wanychol. Treulir ei fywyd diflas mewn unigedd, ond am ymyriadau gofalwyr asiantaeth a chysur ei iPad. Mae'n manteisio ar y cyfle a ddaw yn sgil prinder staff nos; mae'n defnyddio Grindr i wahodd Iestyn, bachgen rhent 20 oed, i'w ymweld.
---
Prynwch Tocynnau (o 16eg Medi) ar gyfer Noson Agoriadol 2022 yma