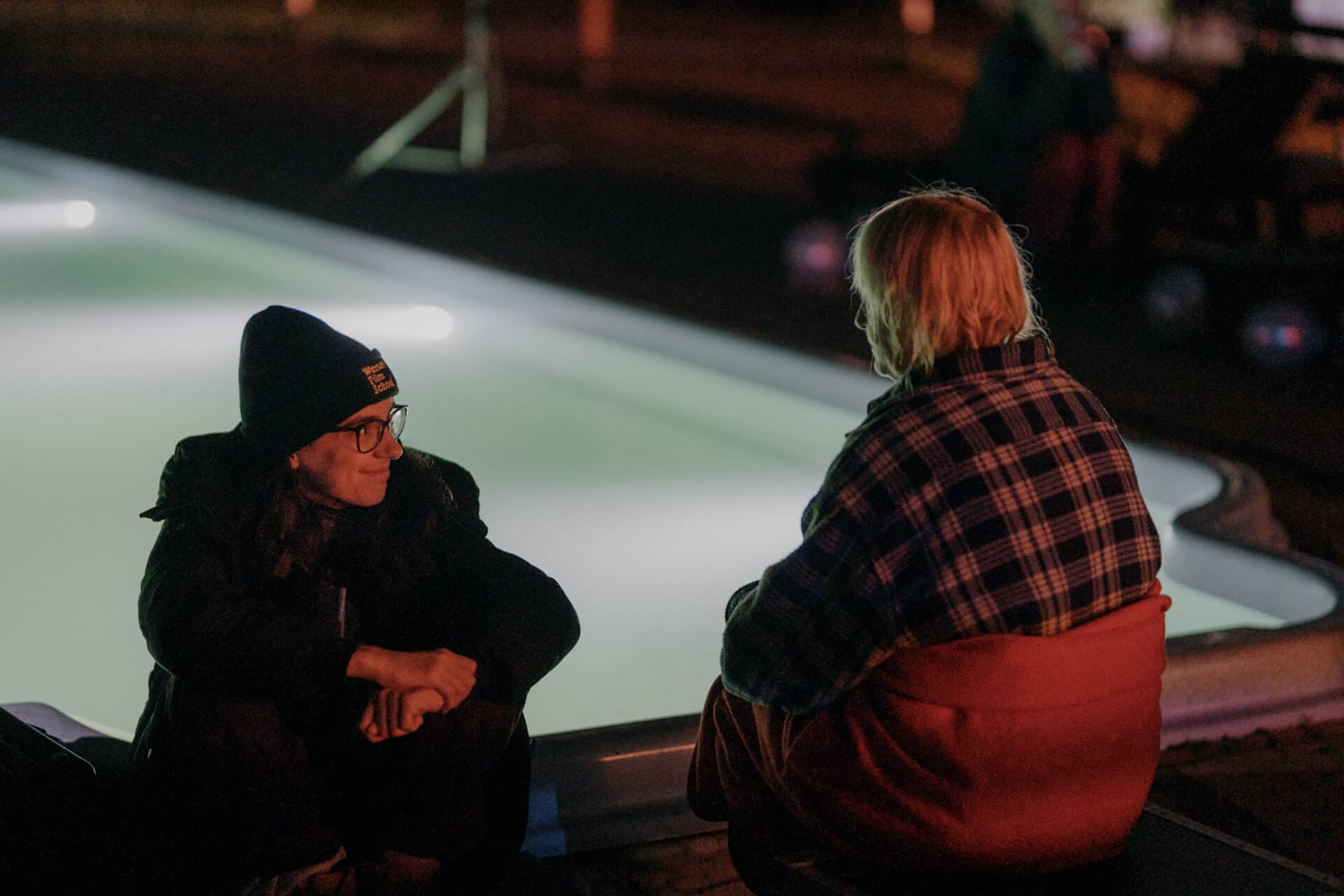 2023 Iris Prize
My old Gals
After 50 years, Zofia and Ania are deciding to go on their last journey together to fight for their old love.
---
DIRECTOR:
Natasza Parzymies
PRODUCER:
Maciej Ślesicki
WRITER:
Natasza Parzymies, Alicja Sokół
Poland, 24 Minutes
---
Ar ôl 50 mlynedd, mae Zofia ac Ania yn penderfynu mynd ar eu taith olaf gyda'i gilydd i ymladd dros eu hen gariad.
Natasza Parzymies is a 24-year-old writer/director based in Poland where she became famous for her mini-series about the hard and passionate love between two young women called Control which she wrote, directed and produced when she was still in film school. The first series has been viewed on YouTube over 60 million times all over the world and has been since picked up for seasons 2, 3 & 4 by the biggest Polish streaming platform Player (belonging to the Warner Bros Discovery Group) Natasza is the youngest writer/director ever to work with both Player and Discovery+ (where all seasons of Control are available for international viewers).
Control received much love and recognition from both the viewers and critics internationally – in August 2022 Parzymies has been selcted for Variety's prestigeous Power Of Young Hollywood Impact List highlighting 50 young artists from all over the world.
Natasza is also the creator, director and co-writer of the mini-series Random (2021, produced by StorytelPoland). Telling the story of two strangers who fall in love without seeing each other, it is the first Polish series to combine audio drama with film.
---
Mae Natasza Parzymies yn awdur/cyfarwyddwr 24 oed sydd wedi'i lleoli yng Ngwlad Pwyl lle daeth yn enwog am ei chyfres fach am y cariad caled ac angerddol rhwng dwy fenyw ifanc, o'r enw Control a ysgrifennodd, a gyfarwyddodd ac a gynhyrchodd pan oedd yn dal i fod yn yr ysgol ffilm. Mae'r gyfres gyntaf wedi'i gwylio ar YouTube dros 60 miliwn o weithiau ledled y byd ac ers hynny mae wedi cael ei dewis ar gyfer tymhorau 2, 3 a 4 gan y platfform ffrydio Pwylaidd mwyaf Player (sy'n perthyn i Warner Bros Discovery Group). Natasza yw'r awdur/cyfarwyddwr ieuengaf erioed i weithio gyda Player a Discovery+ (lle mae pob tymor o Control ar gael i wylwyr rhyngwladol). Derbyniodd Control lawer o glod a chydnabyddiaeth gan y gwylwyr a'r beirniaid yn rhyngwladol – ym mis Awst 2022 gaeth Narasza ei dewis ar gyfer y Variety Power Of Young Hollywood Impact List fawreddog, sy'n tynnu sylw at 50 o artistiaid ifanc o bob cwr o'r byd.
Natasza hefyd yw crëwr, cyfarwyddwr a chyd-awdur y gyfres fach Random (2021, a gynhyrchwyd gan StorytelPoland). Yn adrodd hanes dau ddieithryn sy'n syrthio mewn cariad heb weld ei gilydd, dyma'r gyfres Bwylaidd gyntaf i gyfuno drama sain gyda ffilm.
---