The next generation of LGBTQ+ professionals working behind the camera in film and television are going to be celebrated during LGBT+ History Month 2023 with 10 new portraits taken by Welsh photographer Dylan Lewis Thomas.
Dylan Lewis Thomas said: "I'm very grateful and excited to have been selected for this commission - as a proud gay man, I'm thrilled to be photographing such inspiring and skilled LGBTQ+ talent".
Pink Portraits Revisited
will be exhibited across Cardiff during LGBT+ History Month in public spaces supplied by JackArts as well as buildings across the city. The project is produced by the Iris Prize Festival in partnership with
Cardiff University
,
Ffotogallery
and the
University of South Wales
.
Ben Lewis, Director of Student Life at Cardiff University said: "This is a great project for Cardiff University to get involved with during LGBT+ History Month, especially as it is being put together by the Iris Prize, who were partners in the original Pink Portraits 12 years ago. "I'm also delighted that Sue Saunders who founded LGBT+ History Month can join us for the launch. I can't wait to see the new portraits, especially as at least three are Cardiff University graduates."
 The ten sitters featured in this exhibition are:
---
Berwyn Rowlands, Iris Prize Film Festival Director said: "This is a fantastic way to celebrate LGBT+ History month. Working together we can celebrate new talent by commissioning and exhibiting the work of Dylan Lewis Thomas.  Dylan was chosen from our open call Pink Portraits commission out of a large number of extremely high-quality entries. "It is exciting that these lovely portraits will be seen all over Cardiff, highlighting the often-unseen creatives working behind the camera. The sitters chosen represent some of the most diverse and vibrant talent we have here in Wales.  We look forward to sharing Dylan's portraiture with you."
---
Ailymweliad y Portreadau Pinc i ddathlu'r genhedlaeth nesaf o dalent ffilm a theledu LHDTQ+
Dewiswyd ffotograffydd o Gymru, Dylan Lewis Thomas, i dynnu'r lluniau
Portreadau newydd i'w harddangos mewn 10 man cyhoeddus yng Nghaerdydd gyda JackArts
Gwobr Iris, Prifysgol Caerdydd, Ffotogallery a Phrifysgol De Cymru yn dathlu Mis Hanes LHDT+ gyda'I gilydd
"Fel dyn hoyw balch, rwyf wrth fy modd yn tynnu lluniau talent LHDTQ+ mor ysbrydoledig a medrus".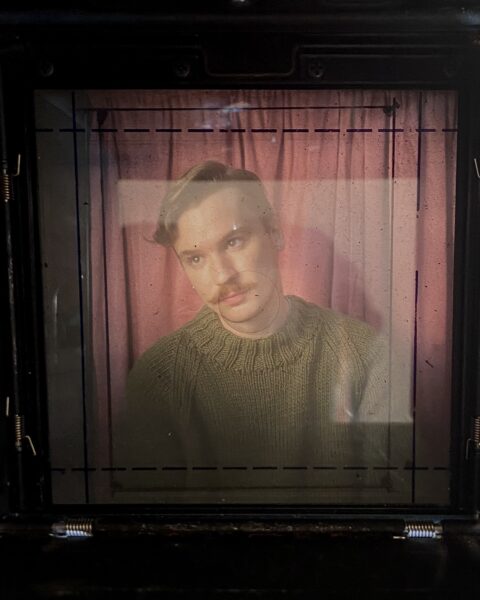 Bydd y genhedlaeth nesaf o weithwyr proffesiynol LHDTQ+ sy'n gweithio tu ôl i'r camera ym myd ffilm a theledu yn cael eu dathlu yn ystod Mis Hanes LHDT+ 2023 gyda 10 portread newydd wedi'u tynnu gan y ffotograffydd o Gymru, Dylan Lewis Thomas.
Dywedodd Dylan Lewis Thomas: "Rwy'n ddiolchgar ac yn gyffrous iawn i gael fy newis ar gyfer y comisiwn hwn – fel dyn hoyw balch, rwyf wrth fy modd yn tynnu lluniau talent LHDTQ+ mor ysbrydoledig a medrus".
Bydd
Ailymweliad y Portreadau Pinc
  yn cael ei arddangos ar draws Caerdydd yn ystod Mis Hanes LHDT+ mewn mannau cyhoeddus a ddarparwyd gan JackArts yn ogystal ag adeiladau ledled y ddinas. Mae'r prosiect yn cael ei gynhyrchu gan Ŵyl Gwobr Iris mewn partneriaeth â Phrifysgol Caerdydd, Ffotogallery a Phrifysgol De Cymru. Bydd Is-Ganghellor Prifysgol Caerdydd, Colin Riordan, yn lansio'r prosiect ddydd Llun 13 Chwefror yng Nghaerdydd a bydd yn cael ei arddangos tan ganol mis Mawrth.
Dywedodd Ben Lewis, Cyfarwyddwr Canolfan Bywyd y Myfyrwyr ym Mhrifysgol Caerdydd: "Mae hwn yn brosiect gwych i Brifysgol Caerdydd gymryd rhan ynddo yn ystod Mis Hanes LHDT+, yn enwedig gan ei fod yn cael ei roi at ei gilydd gan Wobr Iris, a oedd yn bartneriaid yn y Portreadau Pinc gwreiddiol 12 mlynedd yn ôl. "Rwy'n falch iawn hefyd y gall Sue Saunders a sefydlodd Fis Hanes LHDT+ ymuno â ni ar gyfer y lansiad. Alla i ddim aros i weld y portreadau newydd, yn enwedig gan fod o leiaf tri yn raddedigion Prifysgol Caerdydd."
Dyma'r deg sydd yn ymddangos yn yr arddangosfa:
Bradley Siwela (Ef/Ef) Cynhyrchydd | Camera Cynorthwyol |Gwrandäwr da
Efa Blosse Mason (Hi/Nhw) Animeiddiwr | Cyfarwyddwr | Yn caru llên gwerin a mytholeg
El Bergonzini (Nhw/Nhw) Golygydd | Rheolwr Llawr | Carwr coffi
Jess Hope Clayton (Hi/Hi) Newyddiadurwr Digidol | Crëwr Cynnwys | Canu yn y gawod
Liam Ketcher (Ef/Ef) | Gweithredwr camera | Newyddiadurwr | Wrth fy modd yn mynd ar heic!
Margarida Maximo (Hi/Hi) Ffotograffydd | Crëwr Cynnwys | Caru crisialau
Mathew David (Ef/Ef) Actor | Awdur | Caru Batman
Oojal Kour (Hi/Hi) Awdur | Ffotograffydd | Caru cathod
Rebs Fisher-Jackson (Hi/Hi) Sgriptiwr | Goruchwyliwr Sgript | Swiftie
Seth Edmonds (Ef/Ef) Gweinyddwr Gŵyl | Cynhyrchydd | Person cathod
---
Dywedodd Berwyn Rowlands, Cyfarwyddwr Gŵyl Ffilm Gwobr Iris: "Mae hon yn ffordd wych o ddathlu mis Hanes LHDT+. Drwy gydweithio, gallwn ddathlu talentau newydd drwy gomisiynu ac arddangos gwaith Dylan Lewis Thomas.  Dewiswyd Dylan o'n comisiwn Portreadau Pinc allan o nifer fawr o geisiadau o ansawdd uchel dros ben. "Mae'n gyffrous y bydd y portreadau hyfryd hyn i'w gweld ym mhob cwr o Gaerdydd, gan dynnu sylw at y bobl greadigol sydd ddim yn cael eu gweld yn aml, wrth weithio tu ôl i'r camera. Mae'r eisteddwyr a ddewiswyd yn cynrychioli rhai o'r doniau mwyaf amrywiol a bywiog sydd gennym yma yng Nghymru.  Edrychwn ymlaen at rannu portreadau Dylan gyda chi."